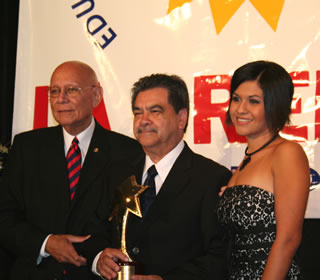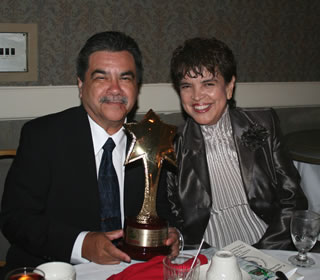 Top photo: Tino Duran, La Prensa founder, UTSA Vice Provost
Jesse Zapata and Nina Duran, La Prensa Foundation
representative and daughter of Tino Duran.
Bottom photo: Jesse Zapata and his wife, Carmen Zapata
(View a video about Jesse Zapata.)
UTSA's Jesse Zapata receives La Prensa Foundation award
By Marianne McBride Lewis
Director of Public Affairs
(Oct. 31, 2006)--Jesse Zapata, vice provost for the UTSA Downtown Campus and dean of the College of Public Policy, was honored Oct. 13 with the La Prensa Foundation's Hispanic Heritage Award for Education. Zapata accepted the award at the organization's 10th annual scholarship and awards dinner.
One of twelve honorees, Zapata was recognized for his leadership skills, teaching career and dedication to public policy research.
---
Today's headlines
Article tools
---
Tino Duran, founder and CEO of La Prensa, San Antonio's bilingual newspaper, and his wife, Amelia Duran, founder of La Prensa Foundation Inc., hosted the event with a goal of raising $150,000 for scholarships.
Zapata's accomplishments were featured in a video presentation during the evening's celebration. He received a personalized Hispanic Heritage gold statue emblazoned with a star.
Zapata joined UTSA in 1976 as a faculty member in the Division of Education, and in August 2000 he became founding dean of the UTSA College of Public Policy. From 1983 to 1986, he co-directed the UTSA Bilingual Counselor Training Program and directed Project I-Teach. In 1989, Zapata established the Hispanic Research Center.
Throughout his tenure at UTSA, Zapata has published in a variety of scholarly journals including "Journal of Child and Adolescent Substance Abuse" and "Hispanic Journal of Behavioral Sciences." His most recent publications focus on substance abuse among Hispanic public school students.
In 1994, Zapata was named the first associate provost for the UTSA Downtown Campus and now serves as vice provost.