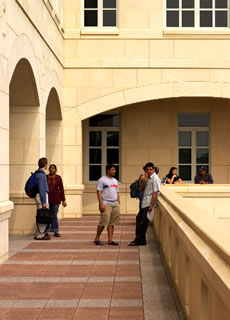 Students at Biotechnology, Sciences
and Engineering Building, 1604 Campus
Student affairs VP candidates to visit UTSA
By David Gabler
Assistant Vice President for Communications
(Nov. 1, 2006)--A search committee seeking a new UTSA vice president for student affairs selected four finalists to meet with students, faculty and staff in public forums set for Nov. 7-10.
---
Today's headlines
Article tools
---
The finalists (in order of their campus visits) include Richard Padilla (University of Texas at El Paso), Charles Fey (University of Maryland - Baltimore County), Esther Peralez (Metropolitan State University) and Gage Paine (Trinity University).
See brief bios of the candidates below.
The public forums, which are open to the UTSA community, will be 1:30-2:15 p.m., Nov. 7-10 in the University Center Laurel Room (2.01.28) on the 1604 Campus.
The candidates and their meeting days are:
Richard Padilla -- Tuesday, Nov. 7
Charles Fey -- Wednesday, Nov. 8
Esther Peralez -- Thursday, Nov. 9
Gage Paine -- Friday, Nov. 10
"Each of the candidates demonstrates a passion for students and commitment to providing the finest support services to help students be successful," said Sonia Martinez, UTSA vice president for university advancement and chair of the student affairs search committee.
"I encourage all members of the university community, particularly students, to participate in the public forums," Martinez added. "The feedback provided will help us recruit an individual who can lead the student affairs program to higher levels of excellence."
For more information, call (210) 458-4131.
Read more about the UTSA Vice President for Student Affairs position.
------------------------------
Candidate bios
Richard Padilla has been vice president for student affairs at the University of Texas at El Paso (UTEP) since 1994. Before working at UTEP, he served at the University of Houston from 1982 to 1988 as an area coordinator in residence life, assistant dean of students and associate dean of students. At the University of Houston - Downtown he was dean of students (1988-1994).
Padilla has a doctorate in higher education administration from the University of Houston, a master of divinity degree from Catholic Theological Union in Chicago, and a bachelor's degree in English from Bellarmine College in Louisville, Ky. Additionally, he completed Harvard's Management Development Program.
----------
Charles Fey has served as vice president for student affairs at the University of Maryland - Baltimore County, since July 1997. He earned a doctorate in education from Texas A&M University. At Pennsylvania State University, he earned a master of education degree in counselor education and bachelor's degree in liberal arts, general arts and sciences.
He has published articles and papers on student development initiatives, integrating ethics in curricula, management skills and professional development needs. He has delivered presentations on monitoring and assessing student learning, balance and perspective in the workweek, civic responsibility as a way of learning and thinking, and trends, challenges and opportunities for faculty.
----------
Esther Peralez currently is vice president for student affairs at Metropolitan State University. She has served in a number of administrative positions over 23 years, including dean of students and university advising. She co-facilitated the Student Affairs Integrated Co-location Initiative with Minneapolis Technical and Community College to support retention and graduation of underrepresented students.
Peralez earned a doctorate in educational administration at University of Minnesota, a master of education degree from Montana State University - Billings and a bachelor of science degree from Rocky Mountain College (Montana). She began her career as a teacher for the Migrant Education Project (Oregon), and at the University of Minnesota was director of student services and special assistant to the vice president for student development and athletics.
----------
Gage Paine serves as vice president for student affairs at Trinity University in San Antonio. Previously, she was associate vice president for student affairs and dean of student life at Southern Methodist University in Dallas (1997-2000) and associate dean of students at the University of Texas at Austin in the areas of judicial affairs and disability services (1986-1997).
She holds a jurisdoctorate degree from Texas Tech and a Ph.D. in educational administration from UT Austin. Her dissertation focused on the impact of public policy on organization development in disability services. Paine has presented workshops at numerous statewide and national conferences on topics such as the Americans with Disabilities Act, sexual harassment, hazing and legal issues in higher education.