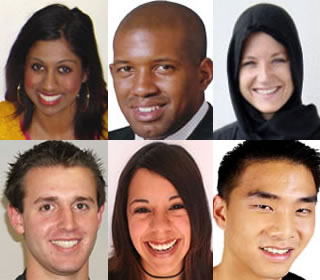 Celebrate UTSA! All Different. All Roadrunners.
UTSA Diversity Month: Diversity Fair is Nov. 15
By Tim Brownlee
Assistant Director of Public Affairs
(Nov. 15, 2006)--The UTSA Office of Student Activities and the Office of Institutional Diversity are the co-sponsors of UTSA Diversity Month in November. With the theme, "All Different. All Roadrunners," the month's activities celebrate the cultural traditions of the many groups in the UTSA community.
The highlight of the celebration is a Nov. 15 culture fair with a showcase event at the 1604 Campus. Other activities during the month include panel discussions, lectures, a film screening and displays at the 1604 and Downtown campuses.
---
Today's headlines
Article tools
---
The highlight event is the Diversity Fair, "Celebrate UTSA!" from 4 to 8 p.m., Wednesday, Nov. 15 in the Convocation Center, 1604 Campus. The event was scheduled to be outside on the lawn, but was moved inside because of windy conditions. Activities will include food samples, music, information tables and a showcase of music, dance, skits and cultural traditions.
Download the Diversity Month events calendar (pdf format).
UTSA community members and friends are encouraged to come as you are or wear something that represents your community, culture or identity.
For more information, contact Diane Pina at (210) 458-4120 or Ann Margaret Trujillo at (210) 458-4160.
------------------------------
Diversity Month 2006 Planning Committee
Representing student organizations:
Gilberta Turner, Sigma Delta Pi and Yachai
Joshua Doyen, Alpha Lambda Tau
Joseph Garza, Campus Activities Board
Representing faculty and staff:
Ann Margaret Trujillo (committee co-chair), Office of Student Activities
Diane Pina (committee co-chair), Office of Institutional Diversity
Grace Hernandez, Office of Institutional Diversity
Barry McKinney, Office of Student Activities
Nina Sosa, Office of Institutional Diversity
Michelle Montanio, Office of Student Activities, Downtown Campus
Keith Pilger, Office of Student Activities, Downtown Campus
Alicia Triplett, Housing
Lester Samson, Housing
Charlin Jones, Office of Student Activities
Lorraine Harrison, Office of Disability Services
Norma Suarez, Office of International Programs
Patti Dunn, Institute of Texan Cultures
Joe Rubio, Physical Plant, Downtown Campus
Pat Navarro, College of Engineering, Department of Mechanical Engineering
Gina Mendez, College of Public Policy, Downtown Campus Community Relations
Tim Brownlee, Office of University Communications
Cari Goodyear, Office of Intercollegiate Athletics
Tricia McElligott, Visitors Center, Admissions
Wanda Crotty, College of Sciences
Pamela Smith, Department of Accounting, College of Business
Gary Mabry, Department of Music
Julieta Gonzales, Academy of Teacher Excellence, College of Education and Human Development
James Clark, Department of Health and Kinesiology
Claudia Wite, Human Resources
Joann Moreno, UTSA Ambassadors
Dennis Medina, UTSA Library
Daniel Escobar, Honors College
Marina Larsen, College of Architecture