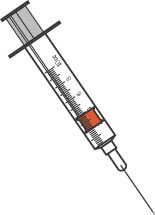 Student Health Services offers flu clinics
By Alexandria Sanchez
Student Writer, College of Liberal and Fine Arts
(Nov. 27, 2006)--UTSA Student Health Services will offer influenza vaccine injection clinics Nov. 29 and 30 and Dec. 4 and 7 for UTSA students, staff and faculty members.
Below, see the schedule of flu injection clinics.
The cost is $15 for students and $20 for faculty and staff. You must present your UTSA ID in order to receive an injection. Payment must be by cash (exact change) or check. No credit cards or UTSACard payments will be accepted. In order to receive an injection, individuals must be well.
---
Today's headlines
Article tools
---
For more information, contact Margaret Black at (210) 458-4142.
------------------------------
Flu injection clinic locations
Downtown Campus
Tuesday, Nov. 28
11 a.m.-1 p.m.
Frio Street Building commons
Tuesday, Dec. 5
11 a.m.-1 p.m.
Frio Street Building commons
1604 Campus
Wednesday, Nov. 29
11 a.m.-1 p.m.
University Center Chicano Room (2.01.40)
Thursday, Nov. 30
11 a.m.-1 p.m.
John Peace Library Building, hallway near food court
Monday, Dec. 4
11 a.m.-1 p.m.
John Peace Library Building, hallway near food court
Tuesday, Dec. 5
11 a.m.-1 p.m.
Business Building, second floor hallway near computer lab
Wednesday, Dec. 6
11 a.m.-1 p.m.
John Peace Library Building, second floor library foyer
Thursday, Dec. 7
11 a.m.-1 p.m.
University Center Chicano Room (2.01.40)