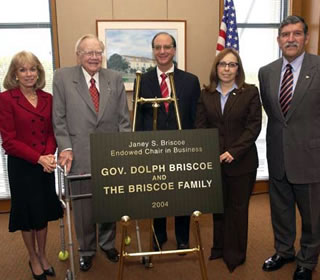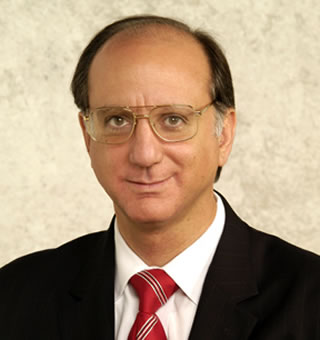 Top photo: From left are Janey Briscoe Marmion (daughter
of Dolph Briscoe), Dolph Briscoe, Dana Forgione, Lynda de
la Vina and Ricardo Romo. Bottom photo: Forgione
Janey S. Briscoe Endowed Chair recipient named
By Wendy Frost
Director of Communications, College of Business
(Nov. 3, 2006)--UTSA President Ricardo Romo and College of Business Dean Lynda de la Vina thanked former Gov. Dolph Briscoe at a Nov. 2 ceremony and luncheon for his establishment of the Janey S. Briscoe Endowed Chair in the Business of Health.
Briscoe and his family established the $500,000 chair in honor of his late wife. During the luncheon, Dana A. Forgione was announced as the first recipient of the chairmanship.
Forgione, professor of accounting, will lead the college's initiatives in the area of the business of health. A distinguished academic and pioneer in health care accounting and financial management, his research interests are in external audits and governance in health care entities, comparative international health care accounting, financing systems and quality of care. He has more than 90 publications, most of which are in the area of health care business
---
Today's headlines
Article tools
---
"Dr. Forgione will anchor our business of health program in the College of Business," said Lynda de la Vina, dean of the UTSA College of Business. "His presence will strengthen our M.B.A. program with a concentration in health care management and will lead to new partnerships and research in the San Antonio health care community."
Forgione is the founder and director of the International Society for Research in Healthcare Financial Management and the managing editor of the journal, Research in Healthcare Financial Management. His consulting work has been used twice by the U.S. Congress in major national health care policy deliberations, as well as by the State of Texas in landmark charity care legislation.
Forgione previously served as director of the School of Accounting at Florida International University. He is a certified public accountant, a certified management accountant and a certified fraud examiner. He has doctorate, master's and bachelor's degrees in accounting and an M.B.A. from the University of Massachusetts at Amherst.
Former Gov. Dolph Briscoe and his family established the endowed chair in memory of his late wife, Janey Slaughter Briscoe. Janey, who passed away in 2000, served on the University of Texas System Board of Regents from 1981 to 1987. A Uvalde native, Dolph served as the governor of Texas from 1973 to 1979 and has enjoyed a distinguished career as a politician, rancher and community leader.
UTSA's College of Business is accredited by AACSB International, The Association to Advance Collegiate Schools of Business. It is one of the 40 largest business schools in the nation with more than 6,200 enrolled students and 37 different graduate and undergraduate business programs.
The UTSA College of Business was recognized as having one of the top 10 M.B.A. programs for minorities by the Princeton Review, one of the 15 largest minority M.B.A. programs by U.S. News and World Report and ranks second in the nation for the number of undergraduate business degrees awarded to Hispanics according to Hispanic Outlook magazine. The college is dedicated to raising its academic profile to become one of the best business schools recognized for developing "Knowledge for a New World."
For more information, call (210) 458-4313.