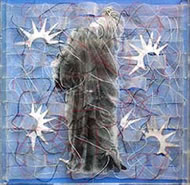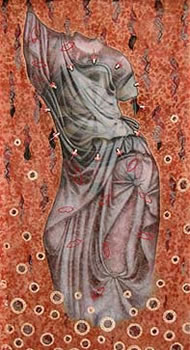 "Liberty's Back" (top) and "Soisbelle"
by Marie-Laure Ilie
UTSA exhibit spotlights work of Marie-Laure Ilie
By Ashley Harris
Public Affairs Specialist
(Nov. 1, 2006)--The UTSA Department of Art and Art History will present "Draping and Beyond: Current Works," an exhibit by artist Marie-Laure Ilie, from Thursday, Nov. 2 through Thursday, Nov. 30 in the 1604 Campus Arts Building gallery.
---
Today's headlines
Article tools
---
A meet-the-artist reception, free and open to the public, is 6-8 p.m., Thursday, Nov. 2 at the gallery.
A Sorbonne graduate, Ilie received her bachelor of fine arts degree from the University of Michigan, where she served as a teaching fellow. She received additional training in the fine arts at several painting studios in Paris and a variety of workshops in the United States.
Inspired by the ambivalent sense of permanence and deterioration of ancient Greek and Roman sculptures, Ilie explores metaphors of liberty, justice, woman's roles, war and peace through her paintings and sculptures.
Using modern technology and traditional fabric enhancements, Ilie re-images and transforms conventional allegories and archetypes in order to suggest new cultural and emotional interpretations.
Ilie now works mainly with fabric because of its symbolic links with human life and its versatility.
Since 1995, she exhibits only her new genre of 3-D compositions that she calls "mixed-media embodiments."
For more information, call (210) 458-4402.