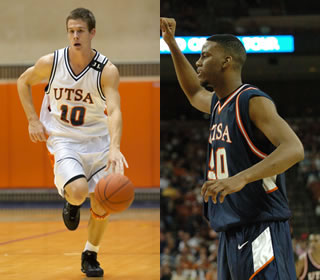 Top: Kurt Attaway (left) and Dwain Hall; Bottom: Brooks Thompson
(Photos: Kurt Attaway by Jeff Huehn, Dwain Hall by Chris Carson,
Brooks Thompson by Patrick R. Dunn)
UTSA men's basketball hosts Abilene Christian in Nov. 2 game
By Kyle Stephens
UTSA Sports Information Director
(Nov. 2, 2006)--The UTSA men's basketball team hosts Abilene Christian in an exhibition game at 7 p.m. Thursday, Nov. 2 at the Convocation Center on the UTSA 1604 Campus. The regular season opener is at home against Texas A&M International at 7 p.m., Friday, Nov. 10.
------------------------------
---
Today's headlines
Article tools
---
On April 18, 2006, a new era of UTSA basketball began. UTSA President Ricardo Romo and Director of Athletics Lynn Hickey introduced Brooks Thompson to a large gathering of local media and program supporters as the fifth head coach in the school's 26-year history.
Thompson, a former NBA player and all-conference performer at both Oklahoma State and Texas A&M, has wasted little time since that significant day in his efforts to make UTSA one of the top basketball programs in the Southland Conference (SLC).
Using numerous contacts throughout the collegiate ranks, Thompson put together an experienced and hard-working coaching staff by the middle of June.
"I am very excited about the experience this staff brings to our program," Thompson said. "All my assistants bring a wealth of recruiting and Division I coaching experience to UTSA. The hiring of this quality staff speaks volumes about the city of San Antonio, UTSA and our athletics department."
That staff went right to work, signing an equally impressive recruiting class that features five junior college transfers -- including a JUCO All-American -- and a freshman from one of the top prep programs in the nation.
"This group will make an immediate impact in many aspects of our program," Thompson said. "Not only are they good basketball players, but they are also very high-character individuals with a great amount of maturity on and off the floor."
The promising newcomers will join forces with a returning group of seven letterwinners and one transfer as the program tries to build on an 11-18 season in 2005-06.
"With what we have returning and the addition of these six newcomers, we feel like this is a great start in what we want to accomplish in building a complete program at UTSA," Thompson said.
Backcourt
UTSA should have plenty of depth in the backcourt, beginning with three-year starter and floor leader Kurt Attaway. Attaway, a 6-1 senior from Flower Mound Marcus High, was the 2003-04 SLC Freshman of the Year and has been named SLC Men's Basketball Student-Athlete of the Year each of the past two seasons. Attaway averaged 5.2 points and 3.5 assists per game last season and ranks eighth all-time with 251 career dimes. Easily the most experienced player on this year's roster, Thompson will rely on Attaway to run the offense from the point.
"Having an experienced point guard like Kurt out there is never a bad thing," Thompson said. "It's almost like having a coach on the floor. He understands the game and what we're trying to do offensively and he's played in this league for three years, so he knows what it takes to be successful."
A pair of sophomores -- Tim Maiden and Aldric Reynolds -- both saw significant playing time in 2005-06 and should see plenty more this season. Maiden, a 6-2 guard out of Scottsdale (Ariz.) Christian Academy, played in 18 games as a freshman, scoring 26 points and dishing out 17 assists. Reynolds, a 6-2 product of Houston Nimitz High, scored 6.6 points per game last year. Reynolds, who can play point or shooting guard, drained five 3-pointers en route to a career-high 24 points against Texas A&M-Corpus Christi, one of nine double-digit outings on the season.
Sharpshooting junior James Peters, a San Antonio Clark High graduate, and sophomore walk-on Chance Williams, who hails from Kerrville Tivy High, should provide depth and experience off the bench.
An incoming quartet of guards should help alleviate the loss of second team all-conference performer Andre Owens and his 17.7 points per game to graduation. Junior transfers Isaiah Allen, Melvin Smith and Ryan Williams and freshman Dezon Otis will look to help provide a scoring punch from the outside this season.
Allen, a 6-3 guard from Portland, Ore., posted 8.9 points and 4.1 rebounds per game and contributed 53 3-pointers, 72 assists and 42 steals last season for Coffeyville (Kan.) Community College. In his two seasons, the Ravens compiled a 59-12 record, two Kansas Jayhawk Community College Conference (KJCCC) Eastern Division Championships, a Region 6 crown and a seventh-place showing at the 2006 NJCAA Tournament.
Smith, a quick 6-3 guard from Covington, Tenn., played two seasons for Dodge City (Kan.) Community College. He earned honorable mention All-KJCCC Western Division honors after scoring a team-high 12.8 points per game to go along with 93 rebounds, 56 assists and 50 steals.
Williams, a 6-4 wing from Sandusky, Ohio, ranked 28th in the nation with a 46.8 3-point field goal percentage as a sophomore at Schoolcraft (Mich.) Community College. He shot 57 percent from the floor in averaging 10 points and 4.5 boards per game in addition to converting 72 percent of his free throws.
Otis, a 6-3 freshman from Compton, Calif., averaged 12.8 points, 5.0 rebounds and 2.3 assists per game and shot 81 percent from the free throw line last year while playing for his father, Russell Otis, at Southern California prep powerhouse Dominguez High.
Frontcourt
There are holes to plug in the frontcourt as Dwain Hall and Jon Flansburg are the only returnees with Division I playing experience. Hall, a 6-10 senior center from Brusly High near Baton Rouge, La., has provided 68 points and 86 rebounds in his three years at UTSA, while Flansburg, a sophomore from San Antonio Reagan High, saw action in five games in his first season as a Roadrunner.
Help is on the way in the form of junior transfers Andrew Francis, Travis Gabbidon and Keith Spencer.
Francis, a 6-7 forward who came to UTSA from Houston last fall, must sit out the fall semester per the NCAA transfer rule. He averaged 7.3 points and 6.5 rebounds as a freshman in 2003-04 for the Cougars.
Gabbidon, a 6-7 forward originally from Phoenix, Ariz., earned third-team JUCO All-America and first-team all-region and all-conference accolades last season at the College of Southern Idaho. He poured in 16.2 points and 7.1 rebounds per game in 2005-06, leading the Golden Eagles to a 25-10 record and a third straight Region 8 Tournament title.
Spencer, a 6-8 forward from San Diego, Calif., averaged 10.9 points and 8.7 rebounds per game, while shooting 55.6 percent from the floor for Seward County (Kan.) Community College last year.
"This is a very versatile group that can play inside and outside," Thompson said. "I am confident that this group can step up to the challenge."
Schedule
UTSA has a tough non-conference schedule, highlighted by home games against TCU and Cal State Fullerton and road contests at Gonzaga, Oklahoma State and Washington State.
"Our schedule is very challenging but exciting at the same time," Thompson said. "We've upgraded our non-conference schedule so that we can be better prepared for a tough conference season. We play some very good basketball programs, so we will have to be on top of our game to be successful."
The Roadrunners open the 2006-07 campaign at home with a pair of exhibition games against Abilene Christian (Nov. 2) and Angelo State (Nov. 8). The regular-season opener is a matchup with Texas A&M International on Nov. 10 in the Convocation Center. UTSA hosts Texas-Pan American on Nov. 12 at the Alamodome as part of NCAA Regional host duties before hitting the road for a tough weekend in the state of Washington. The Roadrunners face Washington State of the Pac-10 Conference on Nov. 17 in Pullman and perennial power Gonzaga on Nov. 19 in Spokane.
UTSA returns to San Antonio for three straight home games against Cal State Fullerton (Nov. 22), San Diego (Nov. 26) and Henderson State (Nov. 29). Sandwiched between the final two home non-conference contests against TCU on Dec. 6 and Texas Wesleyan -- the 2005-06 NAIA Division I Champions -- on Dec. 9 is a road meeting with Fullerton on Dec. 2.
The Roadrunners close out the non-conference slate at Texas-Pan American on Dec. 20, at TCU on Dec. 27 and at perennial power and Oklahoma State, Thompson's alma mater, on Dec. 30.
SLC play has a new look in 2006-07 with two new member schools -- Central Arkansas and Texas A&M-Corpus Christi -- and divisional play consisting of six-team East and West Divisions. Each school plays its own divisional rivals twice and teams from the other division once for a 16-game league schedule.
UTSA opens SLC play at home against Lamar on Jan. 6 and also welcomes seven other opponents to the Convo: Texas-Arlington (Jan. 18), Texas A&M-Corpus Christi (Jan. 27), Stephen F. Austin (Feb. 3), Southeastern Louisiana (Feb. 8), Nicholls State (Feb. 10), Texas State (Feb. 17) and Sam Houston State (March 1).
The Roadrunners' conference road games include Central Arkansas (Jan. 11), Northwestern State (Jan. 13), Texas State (Jan. 20), Sam Houston State (Feb. 1), Texas-Arlington (Feb. 15), McNeese State (Feb. 22), Texas A&M-Corpus Christi (Feb. 24) and Stephen F. Austin (March 3).
The O'Reilly Auto Parts/SLC Tournament also has a new look this year, a neutral site format on March 8-11 at the Campbell Center in Houston. The top two teams in each division and the four teams with the next-highest winning percentage in conference games all receive a spot in the single-elimination tournament. The winner earns the league's automatic bid to the NCAA Tournament.