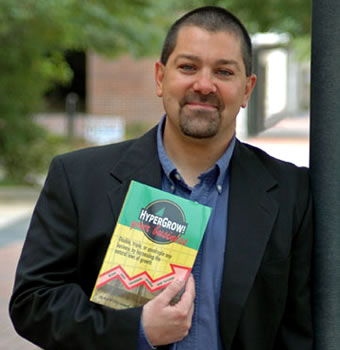 Curt Clinkinbeard
Business expert presents Nov. 29 workshop
By Yanet Gomez
Senior Business Development Specialist, Small Business Development Center
(Nov. 27, 2006)--The UTSA Small Business Development Center and U.S. Small Business Administration will host a workshop by business growth expert Curt Clinkinbeard from 9 a.m. to 5 p.m., Nov. 29 in Durango Building Room 2.316 at the Downtown Campus.
The goal of the workshop is to guide the development and implementation of marketing strategies to increase the customer base and revenues. Registration is $195 for the full-day workshop.
---
Today's headlines
Article tools
---
Clinkinbeard will discuss business improvement strategies based on the nine natural laws of growth, which he explains as naturally occurring and that dictate the growth of every business. In the informal session, participants can ask questions as they are guided through the author's planning exercises workbook.
Clinkinbeard's mission is to help small business owners "hypergrow" revenues. "So many small businesses rely on their ability to raise sales revenues for their survival," he said. "Their own prosperity and the financial stability of their employees are all tied to the company's ability to generate profitable revenues."
"Unfortunately, this is often an area of struggle for the business," he added. "Business owners are typically comfortable with creating their product or service, but a large number of them feel awkward in the area of selling, promoting and advertising their company. It's common to hear business people say 'I am not a sales person.' My workshop can help business owners put the nine laws into motion in their businesses."
For more information, call (210) 458-2460 or e-mail sbdcworkshop@utsa.edu.