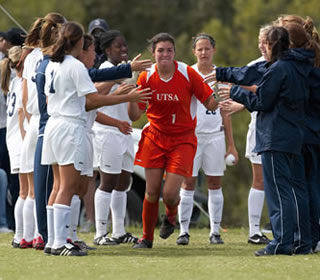 UTSA's inaugural soccer team
UTSA soccer ties for first in Southland Conference
By Carlos Valdez III
UTSA Assistant Sports Information Director
(Nov. 2, 2006)--The No. 2 seed UTSA soccer team heads to the 2006 Southland Conference Soccer Tournament on Nov. 2-5, held in San Marcos at the Bobcat Soccer Complex. The Roadrunners will play the winner of Stephen F. Austin/McNeese State match at 7 p.m., Friday, Nov. 3.
---
Today's headlines
Article tools
---
UTSA scored two goals in the second half to defeat Sam Houston State, 2-1, Friday night and clinch the second seed for the SLC Tournament. Freshman Ezinne Okpo put the Roadrunners on top 1-0 in the 59-minute mark. However, SHSU's Raquel Bueno knotted the match at one with 75:44 left in the frame.
Freshman Veronica Najera gave UTSA the win with her second game-winning goal and sixth overall on the year. Junior Rachel Francis tied her career high with 12 saves on the night.
On Tuesday, Chelsea Zimmerman was named the 2006 SLC Freshman of the Year, while Okpo was tabbed second-team all-conference. Najera and Kari Weiland were honorable mention selections.
Head coach Steve Ballard has been able to shape the team into a Southland Conference contender, despite starting 10 freshmen and one junior most of the season. In their first season of SLC play, the Roadrunners stunned the league with a 2-1 victory at preseason favorite and last season's SLC regular season champions Stephen F. Austin on Oct. 1, in Nacogdoches, Texas.
Freshman Chelsea Zimmerman's nine goals this season lead the team and rank second in the conference, while freshman Kari Weiland's seven helpers lead the conference. Junior goalkeeper Rachel Francis stands second in the conference with a .769 save percentage and five shutouts and ranks third with 93 saves.
For more information, visit the UTSA Athletics Web site.
------------------------------
Soccer statistics
(Team -- SLC Record -- Overall Record)
Southeastern La. -- 4-0-2, .833 -- 10-3-3, .719
UTSA -- 4-1-2, .714 -- 7-8-2, .471
Stephen F. Austin -- 4-2-1, .643 -- 8-7-1, .531
Texas State -- 3-2-2, .571 -- 5-11-2, .333
Northwestern State -- 3-3-1, .500 -- 8-8-2, .500
Central Arkansas -- 4-4-0, .500 -- 8-7-1, .531
McNeese State -- 3-4-0, .429 -- 7-6-1, .536
Nicholls State -- 1-6-0, .143 -- 4-13-1, .250
Sam Houston State -- 1-5, .167 -- 3-13-0, .188