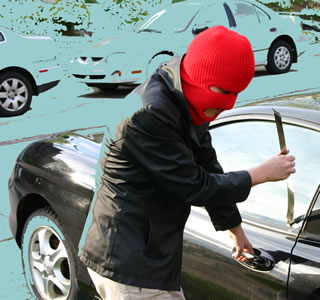 Additional vehicle thefts occur at UTSA
By Geoffrey Merritt
Officer, UTSA Police Department
(Nov. 8, 2006)--Recently, there have been additional motor vehicle thefts at UTSA and the UTSA Police Department is actively investigating each case. This year, there have been 18 vehicle thefts on campus, compared to three last year.
The UTSA Police Department urges UTSA community members to actively protect themselves against vehicle theft. Even older vehicles are at risk; the average stolen vehicle is five years old. Older vehicles are targeted for parts, which can be worth up to three times more than the vehicle.
---
Today's headlines
Article tools
---
For more information and tips to help reduce the risk of car theft, visit the Texas Automobile Theft Prevention Authority Web site.
The Top 5 stolen vehicles in San Antonio are:
1. Chevrolet/GMC pick-ups
2. Ford pick-ups
3. Honda Civic
4. Chevrolet/GMC Suburban/Tahoe/Yukon SUVs
5. Honda Accord
Most recent stolen vehicles from UTSA:
Dodge pick-up
Ford pick-up
Acura Integra
Honda Accord
Through the Help End Auto Theft (H.E.A.T.) program, owners can register their vehicles. By registering, this authorizes police personnel to stop and check a vehicle (with reasonable suspicion) if it is operated between 1 and 5 a.m. or if someone is attempting to drive the vehicle across the Texas border into Mexico. For more information, visit the H.E.A.T. Web site.
If you observe suspicious activity, such as someone tampering with or looking into cars, immediately call UTSA Police at (210) 458-4911. An officer will be dispatched to the location to determine if a crime is being committed. Remember to provide as much detail as possible including a description of suspects.
Additionally, you can e-mail crimeprevention@utsa.edu.