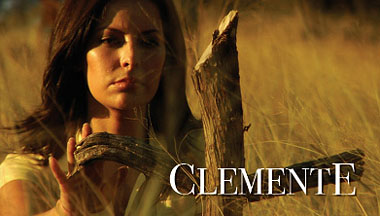 Scene from new Pablo Veliz film, "Clemente"
UTSA alumnus, filmmaker to show latest work
By Ashley Harris
Public Affairs Specialist
(Nov. 15, 2006)--UTSA alumnus and filmmaker Pablo Veliz will share his latest film, "Clemente," with San Antonio audiences at 7 p.m., Thursday, Nov. 16 in the Buena Vista Theatre (1.326) at the UTSA Downtown Campus.
Written and directed by Veliz, the film follows the struggles of an undocumented worker (Jorge Jimenez) living and working in the United States with his wife, Lorena (Kristel Lara), a legal resident and his daughter, Dalia (Marina Wachter), a citizen. Clemente must fight to return to his family after a raid at his workplace by U.S. immigration officials.
---
Today's headlines
Article tools
---
Shot in San Antonio and South Texas over the summer of 2006, Veliz submitted "Clemente" to the 2007 Sundance Film Festival. The director's first movie, "La Tragedia de Macario," was accepted in the feature film competition at Sundance in February 2006 and received numerous awards at festivals across the country.
Presented in Spanish with English subtitles, the UTSA screening is free and open to the public.
For more information, call (210) 458-2700.