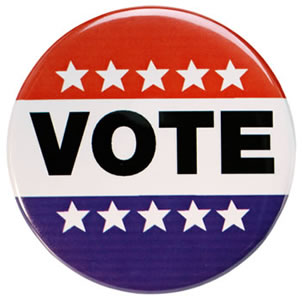 Tuesday, Nov. 7 is Election Day: Remember to vote!
By Tim Brownlee
Assistant Director of Public Affairs
(Nov. 6, 2006)--Election Day is Tuesday, Nov. 7.
Polls will be open until 7 p.m., so be sure to vote if you are registered!
The election includes local, state and federal races including judges, governor, state representatives, U.S. representatives and U.S. senators.
You can make a difference if you vote.
---
Today's headlines
Article tools
---
Resources
Poll locations: http://team.sos.state.tx.us/voterws/viw/faces/SearchSelectionPolling.jsp
Voting FAQ: http://www.sos.state.tx.us/elections/pamphlets/faqs.shtml
Election information at Texas Secretary of State Web site: http://www.sos.state.tx.us/elections/index.shtml