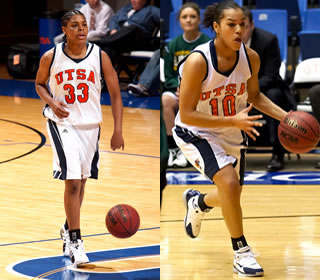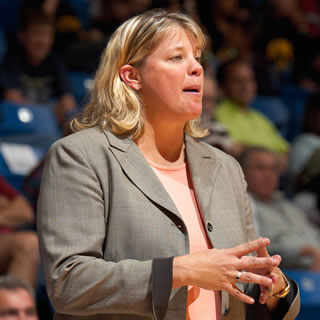 Top: UTSA players Monica Gibbs (left) and Vivian Ewalefo
Bottom: Coach Rae Rippetoe-Blair
(Photos by Jeff Huehn)
UTSA women's basketball opens in Nov. 5 exhibition game
By Carlos Valdez III
UTSA Assistant Sports Information Director
(Nov. 3, 2006)--UTSA women's basketball begins its 26th season in 2006-07 with head coach Rae Rippetoe-Blair back for her seventh season at the helm. With seven letter-winners back and a promising recruiting class on campus, the "winningest" coach in school history has many reasons to be optimistic about the squad she will put on the floor this season.
The women's basketball team hosts Dallas Diesel in an exhibition game at 2 p.m., Sunday, Nov. 5 at the Convocation Center. The regular season opener is at Texas Tech at 7 p.m., Friday, Nov. 10.
---
Today's headlines
Article tools
---
UTSA looks to build upon an 18-12 season in 2005-06 that ended with the program's second appearance in the Southland Conference (SLC) Tournament Championship Game in the past four years. The Roadrunners hope to pick up where they left off last season, but with a different ending.
Despite the loss of three veteran players -- Nicole Dunson, Lacy Mingee and Katie Sandefur -- that combined for a total of 283 games played during their careers, Blair welcomes back an experienced ball club with seven letter-winners, headlined by 2005-06 SLC Newcomer of the Year Vivian Ewalefo, a senior forward from Las Vegas, Nev., and 2005-06 SLC Freshman of the Year Monica Gibbs, a sophomore point guard from Stillwater, Okla. That list also includes senior Ana Oliveira, junior Terrie Davis and sophomores Tia Bogan, Andrea Garcia and Kara McKay.
Joining the current Roadrunners are four freshmen -- Regan Burks, Ashley Freeman, Lynsey Freeman and Courtney Laing -- and senior Amanda Foster, a transfer from Oklahoma State who will sit out the 2006-07 season per the NCAA transfer rule.
------------------------------
The Frontcourt
With the losses of Mingee and Sandefur down low, Ewalefo is the only post player with playing experience heading into this season. She averaged a team best 12.2 points and 7.6 rebounds per game, while in conference play she upped her scoring to 15.3 points and 9.1 rebounds per game en route to earning SLC Newcomer of the Year and first-team All-SLC honors.
Ewalefo led the team with seven double-doubles last season. She also hauled in 10 or more rebounds 17 times and scored in double figures 12 times, including 20 or more points in six contests last season.
A trio of post players looks to provide support for Ewalefo in the frontcourt. Redshirt sophomore Tia Bogan and freshmen Regan Burks and Courtney Laing should see plenty of playing time this season.
Bogan, a 6-0 forward, missed all of last season due to a leg injury. The Livingston native appeared in 11 contests during the 2004-05 season, averaging 2.5 points per game. She dropped in a career-high 17 points against Prairie View A&M that season.
A pair of high school teammates from Wylie High -- Burks and Laing -- will split playing time in the post. Burks, a 6-0 forward, lettered four years at Wylie, where she helped her team to a runner-up finish in the state finals a year ago. She received all-tournament honors at the Polk-Key City and Catclaw tournaments.
Laing, a 6-1 power forward, averaged 14.4 points and 8.0 rebounds per game during her senior year. She was a three-time first-team all-district selection for the Bulldogs and a two-time TABC/TGCA all-star member. In 2006, she was named to the Texas Basketball Magazine All-State Team.
Foster played in 27 games as a junior at Oklahoma State last season, posting 2.6 points and 2.6 rebounds per game for the Cowgirls. She was also a Junior College All-American at Seward Community College.
The Backcourt
Despite the loss of sharpshooter
Nicole Dunson
, UTSA returns a plethora of guards, including SLC Freshman of the Year
Monica Gibbs
. She made 22 starts in 28 games played last season, leading the team in assists with 4.9 per game, which ranked second in the league. Gibbs was second on the team with 7.1 rebounds per game and ranked fifth on the squad with 7.1 points per game.
Junior Terrie Davis steps into the shooting guard role this season. She has plenty of game experience with 28 starts last season. Davis ranked second on the team with 39 3-pointers and averaged a career-high 7.8 points per game, while in conference play she upped her scoring to 8.9 points per game. Currently, Davis stands eighth in school history with 59 career 3-pointers.
Senior Ana Oliveira will provide an offensive boost this season for the Roadrunners. Last season, the Eixo, Portugal, native saw action in 29 games, while making eight starts. She averaged 10.9 minutes per game and averaged 1.5 points per contest.
Also looking to see playing time are sophomores Andrea Garcia and Kara McKay.
Garcia saw limited action during the 2005-06 season. She played in 17 games, including eight during SLC play. McKay played in 20 games and averaged 1.5 points per game last season.
Twin sisters Ashley Freeman and Lynsey Freeman, who starred at Bishop Gorman High School in Las Vegas, will see action off the bench.
The Schedule
With one of the toughest non-conference slates in recent memory, UTSA plays in three holiday tournaments and has games against Big 12 Conference member Texas Tech, Big Ten Conference affiliate Purdue and four Conference USA schools (Memphis, SMU, Tulsa and UTEP).
The Roadrunners open the season with two exhibition games at home on Oct. 29 and Nov. 5) before officially tipping off the campaign with four consecutive road games: Texas Tech (Nov. 10), SMU (Nov. 12), UTEP (Nov. 17) and New Mexico State (Nov. 19).
UTSA returns to the Convocation Center for the UTSA Thanksgiving Classic on Nov. 24-25, with NCAA Final Four participant LSU, Tulsa and Eastern Washington comprising the field.
UTSA opens December at Arkansas-Little Rock (Dec. 2) and returns home to face Cal State Bakersfield on Dec. 8. The Runners then travel to Las Vegas for the Duel in the Desert Tournament, with Purdue, Boise State and UNLV completing the field. UTSA returns home to host the annual Wells Fargo New Year's Classic the last weekend of the year. Taking part in the classic will be Kent State, Kentucky and Memphis.
The Runners open Southland Conference play on Jan. 6 at Lamar, then host new SLC member Central Arkansas and Northwestern State on Nov. 11 and 13, respectively. UTSA hits the road for a single game against Texas-Arlington on Nov. 18, then comes back to San Antonio to play I-35 rival Texas State two days later.
UTSA opens February against Sam Houston State (Feb. 1), then travels to SLC Tournament Champion Stephen F. Austin two days later. The Runners make their only trip to Louisiana for a two-game road swing against Southeastern Louisiana (Feb. 8) and Nicholls State (Feb. 10).
UTSA closes out the month by hosting three of its final four regular season games. This year's SLC Tournament will be played March 7-10 at the Campbell Center in Houston.