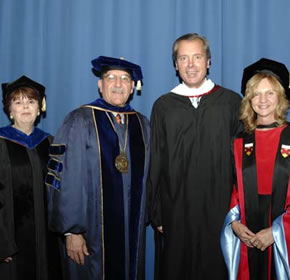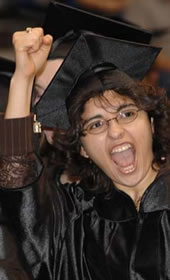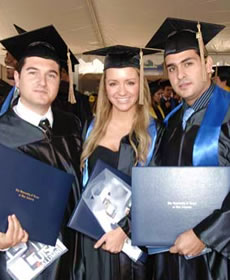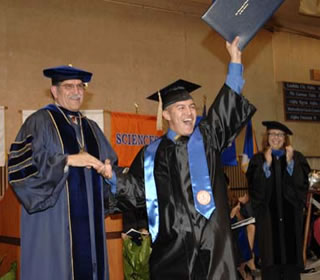 UTSA Fall 2006 Commencement ceremonies
(Photos by Mark McClendon and Patrick Ray Dunn)
Photo Gallery: UTSA Fall 2006 Commencement ceremonies
(Dec. 21, 2006)--More than 2,200 UTSA students earned degrees in six graduation ceremonies Dec. 14-16 in the UTSA Convocation Center on the 1604 Campus. Including the fall 2006 graduating class, UTSA boasts more than 68,900 alumni in its 37-year history.
Lt. Gov. David Dewhurst headlined the list of fall 2006 commencement speakers, addressing students graduating from the College of Education and Human Development at the 5 p.m., Saturday, Dec. 16 ceremony.
Because the College of Liberal and Fine Arts and the College of Business have a large number of graduates and invited guests, majors from those colleges were divided between two ceremonies.
UTSA commencement ceremonies began at 7 p.m., Thursday, Dec. 14 with College of Public Policy students and College of Liberal and Fine Arts majors in anthropology, history, political science and geography, psychology and sociology receiving their degrees. Rosalie Ambrosino, UTSA provost and vice president for academic affairs, will address 415 students as the evening's keynote speaker.
At 7 p.m., Friday, College of Sciences and College of Liberal and Fine Arts students who majored in art and art history; communication; English, classics and philosophy; modern languages and literatures; and music received their degrees. Keynote speaker David McComas, senior executive vice director of the Southwest Research Institute Space and Engineering Division, addressed 515 degree candidates.
At 9 a.m. Saturday, College of Engineering and College of Business students who majored in accounting, economics, finance, information systems and management science and statistics were awarded their degrees. The featured speaker, professional engineer Lissa Martinez addressed 412 graduation candidates.
The 1 p.m. ceremony featured Diane Rath, chair and commissioner representing the public for the Texas Workforce Commission. She spoke to 385 students in the College of Architecture and College of Business students who majored in management and marketing.
---
Today's headlines
Article tools
---
------------------------------
Fall 2006 Commencement statistics
College of Business -- 643 degree candidates
College of Liberal and Fine Arts -- 513 degree candidates
College of Education and Human Development -- 478 degree candidates
College of Sciences -- 293 degree candidates
College of Engineering -- 112 degree candidates
College of Public Policy -- 124 degree candidates
College of Architecture -- 42 degree candidates
Bachelor's degrees -- 1,741
Master's degrees -- 446
Doctoral degrees -- 18
Total degrees awarded -- 2,205