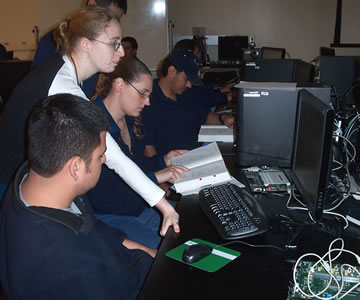 Teaching assistant Fawn Murcray (top) works with students on learning
materials donated by Freescale Semiconductor
Engineering college receives gift from tech company
By Kris Rodriguez
Public Affairs Specialist
(Dec. 14, 2006)--The UTSA College of Engineering received a donation of $10,000 plus equipment from Freescale Semiconductor Inc., a global leader in semiconductor designing and manufacturing.
The company designs semiconductors for wireless, networking, automotive and industrial markets.
---
Today's headlines
Article tools
---
"Partnering with universities is a key component of Freescale's ongoing efforts to influence curriculum and help students build experience in preparation for entering today's technical workforce," said Andy Mastronardi, director of the Freescale University Program. "Through this partnership, we see that UTSA is committed to engineering excellence, and we hope this donation provides students with an important foundation needed for their success."
UTSA undergraduate and graduate students in electrical engineering will use the equipment, 26 Freescale microcontroller learning kits, in introductory circuit-design courses.
"We will use the Freescale equipment to help more than 200 students in a variety of areas including robotic construction, alarm monitoring, wireless controls and senior design projects," said Philip Chen, professor and chair of electrical engineering.
One of the nation's leading producers of Hispanic engineers, the UTSA College of Engineering offers doctoral, master's and ABET-accredited bachelor's degree programs. The college's four departments (biomedical engineering, civil and environmental engineering, electrical and computer engineering, and mechanical engineering) have prepared thousands of graduates for careers in the public and private sectors and higher education. Over the last five years, the college has seen a 90 percent increase in enrollment with more than 2,100 undergraduate and graduate students.
ABET Inc. is the accreditor for college and university programs in applied science, computing, engineering and technology. A federation of 28 professional and technical societies, the organization has provided leadership and quality assurance in higher education for more than 70 years. ABET accredits some 2,700 programs at more than 550 colleges and universities nationwide.