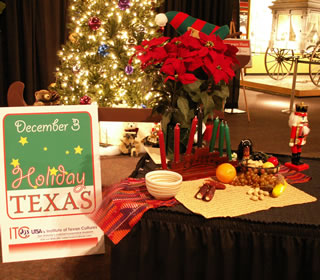 "Holiday Magic" at ITC
ITC hosts Dec. 3 'Holiday Texas' family event
By Karen Sanchez
Educational Specialist, UTSA's Institute of Texan Cultures
(Dec. 1, 2006)--UTSA's Institute of Texan Cultures (ITC) will host a special family event, "Holiday Texas," from noon to 5 p.m., Sunday, Dec. 3.
UTSA students, faculty and staff will be admitted free with their UTSACard, as the museum's exhibit floor and Back 40 Interpretive Learning Area comes alive with seasonal activities and performances that will fill families with the holiday spirit.
---
Today's headlines
Article tools
---
Guests young and old will enjoy choral performances by the Robert E. Lee High School Madrigal Singers, caroling sing-alongs and character performances. Kids will be drawn to puppet shows, character performances, scavenger hunts, reindeer roping and a special opportunity to write letters to Santa Claus.
"Most families have holiday traditions that have been past down and celebrated from generation to generation," said John Davis, executive director of the museum. "This event gives families an opportunity to learn the traditions and customs of people of other faiths and cultural backgrounds in a comfortable community environment. We hope 'Holiday Texas' will become an annual tradition for San Antonio families."
The museum will be decorated with traditional decorations, and special guests representing a variety of cultures and faiths will be on hand to share the stories of their holiday traditions.
Guests at the event will also experience the exhibit, "19th Century Christmas: Movers and Shakers," which is on display through Jan. 7. The exhibit showcases a collection of first-edition holiday books written by Washington Irving, Clement Clarke Moore, Charles Dickens and Thomas Nast, as well as a collection of holiday lithographs on loan from the Judd Christmas Collection.
Admission to Holiday Texas is $7 for adults and $4 for children (ages 3-12), seniors (ages 65 and up) and military personnel with ID. All exhibits will be open. For more information, call (210) 458-2330 during regular business hours or visit the Institute of Texan Cultures Web site.
------------------------------
UTSA's Institute of Texan Cultures is San Antonios cultural-experience museum. Established as the Texas State Exhibits Building for HemisFair in 1968 and later designated as a campus of The University of Texas at San Antonio, the museum has spent nearly forty years telling the stories of Texas's diverse citizens and inviting guests to join in the celebration of Texas's multicultural heritage.
Home to the Texas Folklife Festival, Asian Festival and six other cultural events, ITC seeks to entertain, inform and inspire those who aspire to a greater understanding of the influence of multiculturalism in the Lone Star State. The museum is closed Mondays.