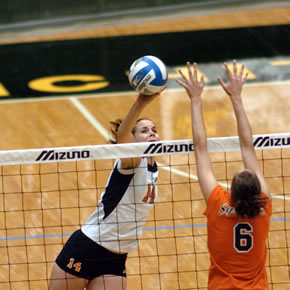 Connie Picard
Hard work pays off for UTSA's Connie Picard
By Brian Hernandez
Associate Sports Information Director
(Dec. 1, 2006)--She came to UTSA four years ago as a project, so to speak. Known more for her prowess on the basketball court, senior Connie Picard decided volleyball would be her sport of choice in college. After four years of hard work and dedication, Picard transformed herself into one of the top middle blockers in the Southland Conference and UTSA history.
She entered the 2006 campaign as a preseason second-team All-SLC selection. Picard proved the honor was well deserved, as she led a quartet of UTSA players named to the postseason all-conference teams two weeks ago. The Spring native became the 11th Roadrunner in school history to be named to the league's top squad and closed out her career on a high note.
---
Today's headlines
Article tools
---
"When I heard that I made first team, I was very excited," Picard said. "Before the season, my teammates voted me the most underrated player, so to earn first team showed that the coaches in the league recognized my performance this season. A lot of middle blockers are underrated and it was great feeling knowing that I was one of the top six players in the conference."
It was the third year in a row that Picard earned postseason honors, as she was a third-team choice as a junior and an honorable mention selection in 2004.
She said that her comfort and confidence began to change the summer after her sophomore season.
"I put a lot of hard work during my career and I think it all came together during the offseason before my junior year," Picard said. "That's when I knew I could make a big difference with the team. I felt like I had more confidence and things began to click."
Picard led the league with a UTSA-record .354 hitting percentage this past season and ranked second in the conference with 29 solo blocks. She also led the Roadrunners with 471 kills -- the seventh-highest total in school history -- and registered double-figure winners in her last 19 matches and in all but three contests overall. Picard set or tied her career high for kills three different times this past season, the last of which was 23 against Northwestern State (Oct. 13).
Defensively, she also paced the squad with 147 total blocks (No. 4 on UTSA's list) and 118 block assists (T-No. 3). Picard had career bests with four solo blocks against Lamar on Nov. 4 and nine block assists against Sam Houston State on Sept. 23.
Picard hit a school-record .354 this season en route to first-team All-SLC honors.
Head coach Laura Neugebauer-Groff was just as excited about Picard's honor and said her hard work and consistency were keys to her success in 2006.
"Connie had a stellar senior year," Neugebauer-Groff said. "She was consistent throughout the season and there were very few matches where she didn't perform at a high level. Connie always had a great desire to learn and for her to become a first-team all-conference player says so much about her determination and work ethic. As a coach, it always is rewarding to see a player work hard and get the most out of their abilities."
When senior Meagan Daniel went down with an injury midway through the season, the Roadrunners needed someone to step up and Picard willingly accepted the challenge and took her game to the next level.
"I really don't think I changed what I was doing on the court," she said, "The team was looking for someone to step up and I felt I was ready to accept that challenge. I was playing with a lot of confidence and knew I could help the team out."
With her performance this year, Picard moved her name up the school's all-time record book. She ended her career in second place with 457 total blocks, 94 solo blocks and 363 block assists and fifth with 1,396 kills. She missed just one match during her four-year career and played in 458 all-time games, which ranks seventh on the school's all-time list.
"I think it's something that I'll look back later on and get satisfaction," Picard said of her career accomplishments. "We may not have achieved our goals as a team, but on a personal note, I was able to accomplish some good things for the program."
Picard, on track to graduate in May with a kinesiology degree, plans to start student teaching next fall with the hopes of mentoring elementary school children after that. Her time in San Antonio has been so enjoyable that she wants to remain in the area when she begins her career.
"My four years here were so much more than I expected," she said. "I grew so much as a person and that's a testament to Coach Groff. She has been like a second mother to me and is a big reason of why I'm the person I am today."