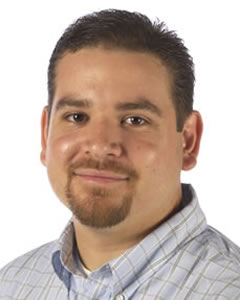 Jason Polendo
Commencement Close-Up: Jason Polendo
By Kris Rodriguez
Public Affairs Specialist
(Dec. 14, 2006)--December is a big month for 30-year-old San Antonio native Jason Polendo.
Not only will he be the first Hispanic doctoral degree candidate in the College Engineering's four-year-old program, but also he is expecting the birth of a son to add to a family that includes his wife and daughter.
As a doctoral student, Polendo worked in the laboratories of electrical engineering professors Philip Chen and C.J. Qian.
---
Today's headlines
Article tools
---
"Jason is an intelligent student with a quest for academic growth and an unquestionable aptitude and motivation for doctoral research," said Chen. "He impressed me not only by his performance in the course work but also with his commitment to learn and strong quantitative analysis and analytical skills."
His dissertation, "Global Synthesis of Highly Nonlinear Dynamic Systems with Limited and Uncertain Information," investigates techniques for stabilizing systems when sensor information is limited or unreliable. The research can be applied to cruise-control systems in automobiles and thermostats in homes or businesses.
"I enjoyed the accessibility I had to graduate faculty in a reasonably sized research environment," said Polendo. "The curriculum was research intensive, but it also allowed me to work independently and gain more insight and focus."
Polendo received a bachelor's degree in electrical engineering from UTSA in 1999. He worked in the Dallas area while working on a master's degree, and returned to UTSA for his doctorate.
In the doctoral program, Polendo was selected to participate in the competitive NASA Harriet G. Jenkins Pre-doctoral Fellowship program. The fellowship provides underrepresented full-time graduate students in science, technology, engineering and mathematics with at least $32,000 annually for three years to support their education in NASA-related disciplines. Only 20 awards are given among more than 700 applicants.
He also received the UTSA College of Engineering Graduate Scholarship/Fellowship in Electrical Engineering.
In addition to his studies, Polendo is a full-time research engineer at Southwest Research Institute, working on projects involving radio frequency signals and systems.
The first in his family to pursue higher education, Polendo is a role model for his extended family, encouraging relatives to enroll at local universities and complete their education.
But, Polendo says that one phrase has been his guide for success: "Always have a goal in mind, and keep your eye on the prize."