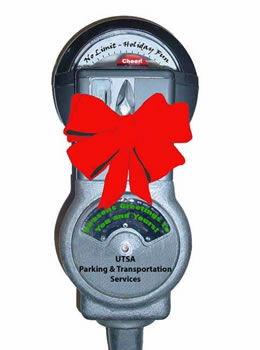 Parking office announces holiday shuttle schedule
By Tim Brownlee
Assistant Director of Public Affairs
(Dec. 12, 2006)--The UTSA Office of Parking and Transportation Services announces the shuttle schedule for Dec. 12-Jan. 16.
The regular shuttle schedules resume Jan. 16.
---
Today's headlines
Article tools
---
UTSA parking permits are required at all times.
For more information, visit the Parking and Transportation Web site or call (210) 458-PARK (7275).
------------------------------
Holiday shuttles and parking
Off-campus apartment shuttles
Normal service through Dec. 12
Saturday service Dec. 9 only, until 5:30 p.m.
No off-campus apartment shuttles Dec. 13-Jan. 15
On-campus shuttles
Normal weekday service through Dec. 12
Reduced service weekdays, 7 a.m.-6 p.m., Dec. 13-Dec. 22, Jan. 2-12
No on-campus shuttles Dec. 25-Jan. 1 and Jan. 15
Shopping shuttle
Normal Saturday service through intercession, noon-4 p.m.
Lot 13 (Valero Way) parking and shuttle
Normal service through Dec. 12
Lot 13 closed and no shuttle service Dec. 13-Jan. 15
Visitor information booths
Normal service through Dec. 12
7:30 a.m.-4:30 p.m., (weekdays) Dec. 13-22, Jan. 2-12
Booths closed Dec. 25-Jan. 1 and Jan. 15