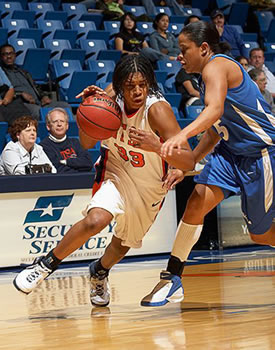 Monica Gibbs recorded her third double-double of the
season with a career-high 19 points and 10 rebounds.
Ewalefo, Gibbs lead UTSA past Memphis, 85-73
By Carlos Valdez III
UTSA Assistant Sports Information Director
(Jan. 3, 2007)--UTSA senior Vivian Ewalefo and sophomore Monica Gibbs combined for 44 points to lead the UTSA women' basketball team a 85-73 victory against Memphis in day one of the Wells Fargo New Year's Classic Friday night, Dec. 29, at the Convocation Center.
Ewalefo tied her career high with 25 points, while freshman Lynsey Freeman set a career high with 17 points and five 3-pointers. Gibbs' 19 points were a career best, while junior Terrie Davis poured in 11 points.
---
Today's headlines
Article tools
---
Gibbs hauled in a team-best 10 rebounds en route to her third double-double on the year, while making a career-high nine free throws.
UTSA's 85 points marked the first time since the 2004-05 season that the Roadrunners scored 80 or more points.
Aroha Jennings paced the Lady Tigers (3-10) with 26 points, while Ashley Thornton chipped in with 14.
UTSA (3-8) jumped to an early 6-2 lead, but Memphis used a 15-7 run to take a 17-13 advantage with midway through the first half. The Roadrunners recaptured the lead at 29-19 with the help of a 14-4 run, as Ewalefo and Freeman combined for 12 points. The Roadrunners closed out the half on a 16-5 run to build their lead to 45-31. UTSA ended the first frame shooting 50 percent from the floor, connecting on 17-of-34 field goals.
The Roadrunners built their largest lead of the game (60-41) when Freeman connected on a 3-pointer with 14:26 left in the game. However, Memphis trimmed the lead to 68-57 with 9:27 to go, but UTSA extended its lead to 14 points (73-59) on a jumper by Ewalefo.
Jennings' second 3-pointer pulled the Lady Tigers within eight points at 79-71 with less than two minutes remaining in the game, but UTSA closed out the game with a 10-5 run.
Read more at the UTSA Athletics Web site.