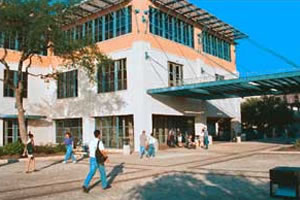 Business Building, UTSA 1604 Campus
Coordinating Board approves UTSA's 20th doctoral program
By Marianne McBride Lewis
Director of Public Affairs
(Jan. 29, 2007)--The Texas Higher Education Coordinating Board recently approved UTSA's 20th doctoral program. A marketing concentration in business administration, the new Ph.D. degree will be housed in the College of Business with classes in the new program beginning fall 2007.
"As an emerging research university, UTSA is committed to educating the scholars and business leaders who will help ensure that Texas is a leader in the global, knowledge-based economy of the 21st century," said UTSA President Ricardo Romo.
---
Today's headlines
Article tools
---
The program will emphasize both teaching and consumer behavior research with a focus on preparing graduates for academia. Students will be exposed to a broad range of theory and methodology via rigorous course work as well as one-on-one interaction and collaboration with the department's active research faculty.
"The College of Business continues its rise to national prominence with the creation of this new doctoral degree program," said College of Business Dean Lynda de la Vina. "This program will not only lead to the growth of future business faculty members, but it will enhance the opportunities of marketing students at the graduate and undergraduate levels as well."
The College of Business offers doctoral programs in applied statistics and business administration. In addition to marketing, the business administration program offers doctoral degrees with emphases in accounting, finance, information technology, and organizational and management studies.
With the addition of the 20th doctoral program, UTSA offers 125 degrees including 62 bachelor's programs and 43 master's programs.