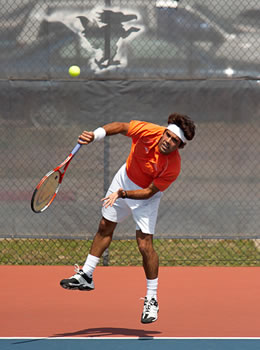 UTSA's Andre Moreira
Men's tennis opens 2007 campaign this weekend
By Carlos Valdez III
UTSA Assistant Sports Information Director
(Jan. 19, 2007)--The UTSA men's tennis team kicks off the 2007 season Friday when it begins play at the three-day Rice Invitational. The Roadrunners then will play their first dual match of the year when they face the Rice Owls on Sunday afternoon.
---
Today's headlines
Article tools
---
Now in his eighth year at the helm of UTSA's men's tennis program, Oliver Trittenwein, looks to lead his squad back to a Southland Conference Championship, as he welcomes back four letter-winners including SLC Freshman of the Year and first-team performer Andre Moreira and all-conference doubles standout junior Adam Becker.
City Manager Sheryl Sculley, also a marathon runner, will fire the starting gun. Diploma Dash raises money for the UTSA alumni scholarship program, UTSA track and cross country scholarships, and alumni programs and services.
Also returning for the Roadrunners this season are senior Nate Avila and sophomore Robin Fernandes. Newcomers Nenad Maric and Rodrigo Morgado will join that group of veterans this season.
Last season, UTSA fell short of its ultimate goal of reaching the NCAA Tournament. The Roadrunners dropped the conference championship match to Texas-Arlington and finished the year with a 10-13 overall record and 3-3 mark in league play. It was the third time in the last four seasons that UTSA played in the conference tournament championship.
With four of the six players returning in singles, UTSA should be solid in singles play. Moreira, who posted an 8-5 overall record and perfect 6-0 mark in SLC play en route to first-team all-conference and Freshman of the Year honors, will move from the No. 2 position into the top spot this year.
Moving into No. 2 will be Maric, a talented 6-foot true freshman from Umag, Croatia.
Fernandes is expected to man the No. 3 spot this season. The sophomore from Edenvale, South Africa, posted a team-high 10 wins in singles play a year ago. He was 4-1 at the No. 4 position and had a 2-1 mark at No. 5.
Becker will play at the No. 4 position for the Roadrunners in 2007. The Bridgewater, Nova Scotia, native went 6-13 overall a year ago and 3-2 in SLC action.
Meanwhile, the No. 5 and No. 6 positions will be filled by Avila and Morgado.
Avila redshirted last season and Morgado, a 6-foot true freshman from Balneario Camboriu, Brazil, will be counted on to contribute immediately in his inaugural campaign.
In doubles, Trittenwien will pair Becker, a 2006 first-team All-SLC doubles performer, and Fernandes this coming season at the No. 1 position. Teamed up midway through last season, the tandem posted a 6-7 record, including a 5-4 mark at No. 2. Avila, Maric and Moreira will split time between the No. 2 and No. 3 spots. Moreira and Fernandes also may team up this season. Last year, the duo combined for a 2-3 record.
This year's schedule has UTSA playing in the season-opening Rice Invitational and 21 dual matches, 11 of which will be played at the UTSA Tennis Center.
The Roadrunners' 15-match non-conference schedule has them playing at Big 12 Conference member Texas A&M on Jan. 27 and against three Big East Conference affiliates in Connecticut (March 8), Marquette (March 25) and South Florida (April 1).
UTSA opens the six-match Southland Conference slate at home on Feb. 24 against Southeastern Louisiana. Nicholls State comes to town the following day and the Roadrunners then travel to Texas-Arlington for a SLC Finals rematch on March 18. UTSA concludes the league schedule with a home match against defending regular season champion Texas A&M - Corpus Christi on April 5 and a road contest at Texas-Pan American on April 14.
The annual SLC Tournament will be played at the UTSA Tennis Center from April 20-22 and the winner will receive the league's automatic bid to the NCAA Tournament.
Read more at the UTSA Athletics Web site.