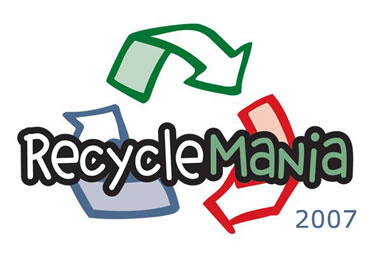 U.S. universities to compete in RecycleMania
By Richard Garza
UTSA Safety Manager
(Jan. 31, 2007)--UTSA is building on its successful recycling program by entering a nationwide competition, RecycleMania. Colleges and universities across the nation will compete through April 9 to collect the most recyclables for top honors in the Per Capita Classic.
Managed by the Office of Environmental Health, Safety and Risk Management, Recyclemania is an opportunity for the UTSA community to demonstrate that we are responsible stewards of our environment by actively participating and contributing to the recycling program.
---
Today's headlines
Article tools
---
Members of the UTSA community can help win the competition by recycling paper, newspaper, cardboard, plastics, glass and aluminum cans in the appropriate bins around the campuses. See recycling tips below.
For more information, visit the UTSA Recycling Web site or the RecycleMania Web site.
For more information or to make suggestions for the UTSA recycling program, call Mark Estes at (210) 458-5250 or Richard Garza at (210) 458-5808.
------------------------------
How to recycle at UTSA
Place empty aluminum, plastic and glass containers in marked blue recycling barrels around the campuses.
Place paper, magazines, books, newspapers and catalogs in blue plastic, five-gallon recycling cans in your office. (Empty cans into blue 60-gallon containers in each building or recycling dumpsters outside each building. Materials in the 60-gallon containers are transported by housekeeping staff to larger recycling bins. Do not place cardboard in any of the containers listed above.)
Cardboard is picked up by housekeeping and moved to a central site for compacting. (Each office should work with housekeeping staff to designate a cardboard pick-up site. Remove all contents from boxes including packing materials.)
Recycle toner cartridges in designated containers at the mailrooms.
Alkaline, nickel, cadmium, lead, lithium, zinc and mercury batteries are recyclable. (It is important to recycle batteries because they contain toxic metals that contaminate landfills. Send batteries by campus mail to the Office of Environmental Health, Safety and Risk Management, 1604 Campus, or if you have a large quantity, large or leaking batteries, call 458-5250 for pick-up.)