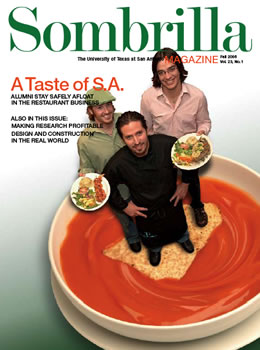 New Sombrilla Online magazine features podcast
By Rebecca Luther
Editor, Sombrilla Magazine
(Jan. 10, 2007)--The latest issue of Sombrilla Online, the Internet version of UTSA's award-winning university magazine, is now available for viewing and download.
---
Today's headlines
Article tools
---
A feature of the online magazine debuting in this issue is a video podcast featuring an interview with College of Business alumni Josh Dayton and Daniel Eisenhauer, who last year opened their North Side restaurant, El Siete Mares, with fellow alumnus Alejandro Villanueva. The trio is featured on the cover of the Fall 2006 Sombrilla. The podcast is available to download for iPod or cell phone or to view online.
In addition to the cover story on the El Siete Mares owners and other UTSA alumni who have opened restaurants in San Antonio, this issue of Sombrilla features articles on the university's efforts to turn its laboratory research into marketable products and on UTSA architecture students' studio project to design and build a pavilion in Raymond Russell Park.
To be notified by e-mail when future issues of Sombrilla Online are posted, send your name and e-mail address to sombrilla@utsa.edu.