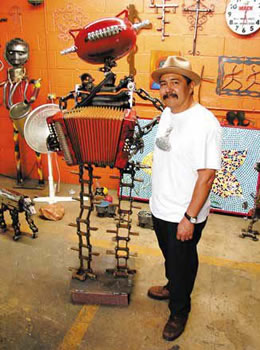 San Antonio artist Luis Guerrero with some of his work
(Photo by Arturo Almeida)
UTSA hosts Chicano/a art symposium Jan. 24
By James Benavides
Public Affairs Specialist
(Jan. 19, 2007)--More than 300 inner-city high school students have found their voices as a new generation of Chicano and Chicana artists, thanks to a new program at UTSA. The UTSA Downtown Campus will host the Chicano/a Art Symposium from 9 a.m. to 7 p.m., Wednesday, Jan. 24 at the Buena Vista Street and Durango buildings. The event brings together high school art students with members of the art community.
---
Today's headlines
Article tools
---
San Antonio artists Rolando Briseno, Luis Guerrero, Joe Lopez and Luis Valderas will discuss their work at the symposium.
Martha Fasci, UTSA assistant vice president for community services, sees the symposium as an opportunity for aspiring artists to speak with professional artists about art as an expression and a profession. Aside from structured presentations, students can socialize with the professionals over lunch and at a gallery reception later in the evening.
"For those students who will continue with their art after high school, this event may promote art as a career," says Fasci. "We are appealing to the artistic soul of students. These students express themselves through art forms. Their art is their creativity and their language. UTSA is creating a venue to showcase Chicano/Chicana art and bringing together a new generation of artists."
Event curator and UTSA art specialist Arturo Almeida explains that the symposium began to evolve when a donor worked with UTSA to provide sets of Chicano art books to libraries at 19 area high schools.
UTSA responded to the donor's gift in-kind, offering high school art students an opportunity to interact with local, established Chicano artists whose works are featured in "Contemporary Chicana and Chicano Art, Volumes I and II," "Chicano Art for Our Millennium" and "Triumph of Our Communities."
As part of the event, student art competition will award three students with a set of the books. Event coordinators have received at least 30 entries for judging, which will be displayed in the Buena Vista Street Building Assembly Room (1.338) throughout the day of the symposium. The judging panel includes Almeida, Guerrero and Richard Armendariz, UTSA assistant professor of art history.
Almeida says the symposium will show the many facets of Chicano/Chicana art. He explains, while the art form originated in the '60s and '70s, depicting Mexican-Americans' struggle for equality, it has evolved over the last 30 years to include the preservation of a unique cultural identity.
"The artists speaking at the symposium come from different backgrounds and experiences," Almeida says. "They work in different mediums and have distinct styles. What I hope this symposium demonstrates is how Chicano/Chicana art is a complex and evolving art form."
Free and open to the public, the Chicano/a Art Symposium is 9 a.m.-7 p.m., Wednesday, Jan. 24 at the UTSA Downtown Campus.
For a detailed schedule or more information, contact Arturo Almeida at (210) 458-4983.