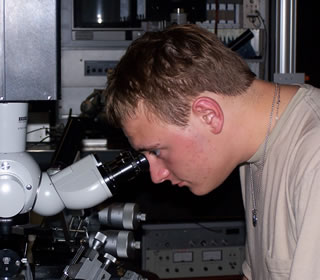 Top: UMB Scholar grantee Max Grayson
Bottom: Grant collaborators Nandini Kannan, David Senseman
and Dmitry Gokhman
(Photos by Kris Rodriguez)
UTSA awarded $900K NSF grant for undergrads
By Kris Rodriguez
Public Affairs Specialist
(Jan. 22, 2007)--UTSA recently was awarded a five-year, $900,000 grant by the National Science Foundation (NSF) to promote undergraduate interdisciplinary education in mathematics and biology. The Undergraduate Mathematics and Biology (UMB) Scholar grant will educate students studying in both disciplines to prepare them to be well-rounded candidates for careers in biomedical and health-related fields.
Originating last fall, the UMB Scholar program began with a start-up class of 10 students, each receiving $8,000 annually over the next three years. One of the UMB Scholar grantees is Max Grayson, a 17-year-old biology major from Russia who plans to be a neurosurgeon. As an undergraduate, he already is doing research on the origination and function of spiral neuron waves in the brain.
---
Today's headlines
Article tools
---
"We want this to be a top-end scholarship for UTSA's best and brightest students," said David Senseman, assistant professor of biology and UMB Scholar grant collaborator.
Other grant collaborators are Nandini Kannan, professor of management science and statistics in the College of Business, and Dmitry Gokhman, associate professor of mathematics in the College of Sciences.
"One of the problems this country faces is a shortage of well-trained students in these disciplines," said Kannan. "This is a great opportunity for us to recruit and mentor the students, so they can go on to graduate school and enroll in our doctoral programs."
"I'm hoping that biology students will realize how much of the research being done now has a significant mathematics component," said Gokhman. "Hopefully it will open doors for them by having mathematics and statistics as a minor." For more information, visit the UMB Scholars Web site or contact David Senseman at (210) 458-5485.