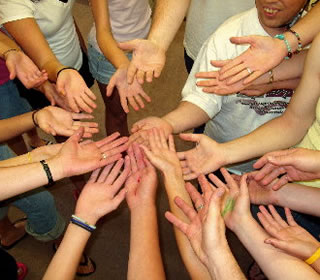 Volunteering... a unique gift
UTSA launches civic participation program
By Marianne McBride Lewis
Director of Public Affairs
(Jan. 30, 2007)--UTSA students, faculty and staff members dedicate hundreds of hours each month to help others and make San Antonio a better place to live. This volunteer work is done through community organizations, family-focused activities such as coaching sports or leading a scout troop, and faith-based projects such as Habitat for Humanity or the SAMM Shelter, among many others.
---
Today's headlines
Article tools
---
Organizations count on this volunteer work, although it is often unheralded. But, that is about to change -- your volunteer time will count in another way at UTSA through a new program.
Today, UTSA launched its component of the UT Service and Civic Participation Program, as part of the President's Council on Service and Civic Participation.
"We are pleased to participate in the UT Service and Civic Participation Program that will allow UTSA students, faculty and staff to be recognized by our country and president for your service and civic participation, as we know 'your time counts,'" said UTSA President Ricardo Romo. "I look forward to thanking and honoring those of you who volunteer and inspire others to serve."
Adults logging 100, 250 and 500 hours of volunteer service in a 12-month period will be eligible for bronze, silver and gold award levels with lapel pins and personalized letters of thanks from the president. The program is a way for individual efforts to be recognized, along with the collective community impact of UTSA and the UT System.
UT System Chancellor Mark G. Yudof was appointed by President Bush last spring as the first higher education representative on the prestigious council. In 2003, the president created the council and the President's Volunteer Service Awards as a way to thank and honor Americans for their volunteer service.
"The UT System has a tremendous opportunity to play a leading role in the President's Council on Service and Civic Participation, since higher education previously was not represented," said Yudof. "The increase in civic engagement on college campuses bodes well for America's ability to overcome a wide variety of social challenges."
Romo encourages UTSA students, faculty and staff to register their service hours at the UT System President's Service Awards Web site. At the site, scroll down to the UTSA logo and register as a UTSA volunteer.
A permanent link will be available at the UTSA Office of External Affairs Web site, where you can log your volunteer hours.
For more information, contact Jennifer Storm, UTSA assistant director for external affairs, at (210) 458-4009.