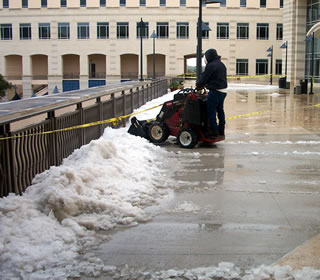 A UTSA facilities services staff member removes ice at the Main
Building on the 1604 Campus.
(Photo by Kris Rodriguez)
UTSA campuses reopen after two days of icy weather
By Tim Brownlee
Assistant Director of Public Affairs
(Jan. 18, 2007)--The UTSA campuses reopened and spring classes began at 11 a.m., Thursday after two days of closure because of icy weather.
UTSA was closed Monday, Jan.15 for Martin Luther King Jr. Day. When it was apparent Monday evening that San Antonio was in for bad weather, e-mails were sent to UTSA students, faculty and staff stating the campuses would be closed Tuesday.
---
Today's headlines
Article tools
---
Closure information also was posted on the UTSA home page and UTSA Today. Additionally, local media outlets immediately were informed of the campus closures. The same procedure was used Tuesday evening when it was decided to close Wednesday.
Beginning Monday, there were technical problems with the 458-SNOW line, which has a recorded message regarding UTSA closures. It was determined that only intermittently were calls connecting to UTSA telephone numbers. During that time, the 458-SNOW message could not be updated. UTSA officials are working with AT&T to rectify the technical issues.
When there is inclement weather, UTSA officials monitor weather conditions and make a decision as early as possible concerning the university's operating status. With the goal of opening the campuses and serving students, the safety of the UTSA community is the top factor in making a decision regarding closures.
To monitor the university's operating status, students, faculty and staff are encouraged to consult these venues:
Weather-alert postings on the UTSA home page and UTSA Today
UTSA e-mail message to faculty and staff and a Lonestar e-mail message to students
Local television and radio stations
(210) 458-SNOW (7669) -- official UTSA notification line with recorded message
(210) 458-4011 -- a recorded message at the UTSA main number