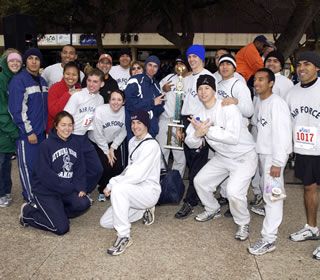 At Diploma Dash 2006, UTSA ROTC Team Challenge winners
were Air Force ROTC.
UTSA Diploma Dash 5K run and walk is Feb. 17
By Marcia Mattingly
Office of Alumni Programs
(Feb. 7, 2007)--As part of UTSA Homecoming 2007, the 23rd annual Diploma Dash 5K Run/Fitness Walk and City Championship Race is Saturday, Feb. 17 at the UTSA 1604 Campus.
Sponsored by the UTSA Alumni Association and The Capital Group Companies, Diploma Dash raises money for the UTSA alumni scholarship program, UTSA track and cross country scholarships, and alumni programs and services.
UTSA students can enter the run/walk for just $10 with UTSACard by registering at the Office of Alumni Programs by Feb. 14. The regular entry fee is $20 through Wednesday, Feb. 14, and $30 on race day. Registration for corporate teams is $250. Each participant receives a long-sleeved Diploma Dash t-shirt and "goodie bag."
---
Today's headlines
Article tools
---
"We encourage students to enter the run or walk and also to register their family members," said Jane Burton, UTSA director of alumni programs. "It's a family event that everyone will enjoy, and we're expecting a great turnout."
On race day, early registration starts at 8 a.m. and the race begins at 9 a.m. For the first time, Diploma Dash will be chip-timed and each participant will wear a computer chip on his or her shoe, enhancing the speed and accuracy of race results. The racecourse at the 1604 Campus offers a certified 5K flat and fast course for accomplished runners as well as a scenic 1.5-mile course for those who prefer an easier pace.
Diploma Dash also serves as San Antonio's City Championship Race. The Capital Group Companies is an international investment management firm with a sizable office in San Antonio.
UTSA alumni Danny Zimmermann ('01) of Cleary Zimmermann Engineers and Cathy Starnes ('92) of Southwest Business Corp. are co-chairs of this year's Diploma Dash organizing committee.
Cash prizes, trophies and running shoes will be awarded for men's and women's open champions. An additional prize of a round-trip American Airlines ticket will be awarded to the two top winners. Each ticket is to one of 48 American Airlines cities in the continental United States, Mexico, Canada or Caribbean.
Men's and women's masters (40+ years) category winners will receive cash prizes and trophies. Custom medals will be awarded in 13 age categories and to the winners in the Clydesdale and Filly divisions. The Corporate Team Challenge, the ROTC Challenge and the Student Challenge also are popular aspects of the race. A corporate partner can give support without registering a company team.
Other sponsors for the event are Humana, San Antonio Express-News, H-E-B, Liberty Mutual, the Sciano family, Roger Soler Sports, Security Service Federal Credit Union, Southwest Business Corporation, Valero Energy Corp., Cleary Zimmermann Engineers and Right Images Printing.
Participants can register online at the Diploma Dash Web site and entry forms are available at San Antonio area sports stores.
For more information, to register or to volunteer, visit the Diploma Dash Web site, contact the Alumni Association at (210) 458-4133 or e-mail alumni@utsa.edu.