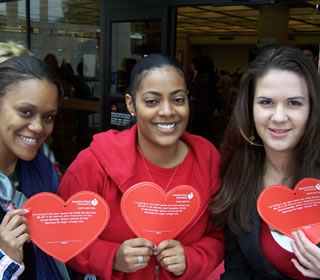 Top: UTSA Downtown Campus health fair participants form the
outline of a heart at Bill Miller Plaza. At the tip of the heart is
20-year-old stroke survivor Sarah Proper from St. Mary's University.
Bottom: Students at information fair
Go Red for Women promotes heart health
By Kathleen Ceresoli
Health Education Coordinator, Student Health Services
(Feb. 15, 2007)--As part of National Heart Month, UTSA Student Health Services is coordinating "Go Red for Women" events at the Downtown and 1604 campuses.
"Go Red for Women" is the American Heart Association's national campaign to celebrate the energy, passion and power of women as they band together to educate the public about eliminating heart disease, using the color red and the red dress as unifying symbols. Although it can be prevented, heart disease is the No. 1 killer of Americans.
---
Today's headlines
Article tools
---
UTSA's "Go Red for Women" events were kicked off Feb. 1 at the Downtown Campus with an information fair with red-dress stickers, pins and hearts, along with free cholesterol, blood pressure and glucose readings, and information on weight-loss and fitness classes.
A luncheon fashion show and health fair at the 1604 Campus attracted 175 participants. Speakers included a stroke survivor, health educators, students and representatives from American Heart Association and YMCA of Greater San Antonio, all of whom discussing heart disease prevention. Fifteen community agencies provided information and free screenings.
Sponsors and event participants include Costco, American Heart Association, Christus Santa Rosa, Blue Cross and Blue Shield of Texas, Alamo Health Institute, Gonzaba Medical Group, Fit City, YMCA of Greater San Antonio, Mary Kay Cosmetics, Texas Cooperative Extension, Susan G. Komen Breast Cancer Foundation, Donovan Watts, Eyemasters, Sole Support Medical, Dillard's La Cantera, Kanae Hirazawa and Samantha Givens.
UTSA student organization event sponsors include Student Health Advisory Committee, Pre-Med Society and VOICES.
For more information, visit the Go Red for Women Web site.
To join next year's Go Red planning committee, e-mail Kathleen Ceresoli or Mary Aguilar.
------------------------------
Heart disease and stroke risk factors you can control
Factors such as age, race and heredity can affect your risk of heart disease and are out of your control. These risk factors can be controlled:
High blood pressure
Smoking
High cholesterol
Physical inactivity
Obesity or being overweight (especially at the waist)
Diabetes (especially if uncontrolled)
Heart health smart facts
Heart disease and stroke are the greatest health threats women face, but only 13 percent of American women realize it.
Coronary heart disease and stroke are the No. 1 and No. 3 killers of women over age 25.
Cardiovascular disease, including stroke, claims nearly twice as many women's lives as all forms of cancer.
One in 2.5 women will die of heart disease or stroke, compared with one in 30 from breast cancer.
38 percent of women die within one year after a heart attack, compared with 25 percent of men.
One in five women across the country is currently living with some form of cardiovascular disease.
The American Heart Association is committed to educating women about heart disease and stroke and improving women's cardiovascular health.