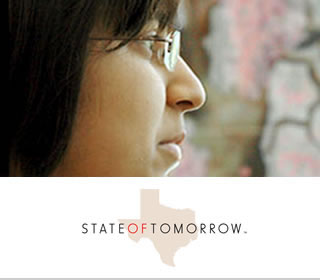 PBS series examines Texas challenges, solutions
(Feb. 19, 2007)--A new PBS documentary series on public higher education, "State of Tomorrow," will be previewed in the next few weeks on PBS stations in San Antonio, Austin, College Station, El Paso and Waco, according to Randa Safady, series executive producer and UT System vice chancellor for external relations.
Up to four episodes of the series will air in these cities in advance of the full 13-episode launch in April, when all Texas PBS stations will carry the series.
---
Today's headlines
Article tools
---
"State of Tomorrow" is a 13-episode series that examines how public higher education innovators are pursuing solutions to Texas' biggest challenges in public health, homeland security, energy policy, economic development, environmental quality and education. The series highlights new research in bio-safety, nanotechnology, and proton therapy through thought-provoking interviews and visuals.
The series represents an unprecedented collaboration of a documentary production company, public television and public higher education institutions including UT System institutions, Texas A&M, Texas State, Texas Tech, University of Houston and University of North Texas.
Through the personal stories of cancer patients, hurricane survivors, farmers and teachers, and interviews with researchers, scientists and doctors, the series depicts global issues and solutions on a human scale.
"The University of Texas System is so proud to be part of this important series," said UT System Chancellor Mark G. Yudof. "Public higher education offers solutions to many of the major challenges facing Texas, and it is important for Texans to know that whether or not they ever set foot on our campuses, we work to ensure that they are the beneficiaries of education's service to society."
The series is co-produced by the University of Texas Foundation and Alpheus Media Inc. in partnership with public television station KLRU-TV, Austin, and is funded by sponsors including AT&T Inc., Exxon Mobil Corp., and IBC Bank, among others.
The University of Texas Foundation is a nonprofit corporation established in 1967 to accept and manage gifts in support of the UT System and its institutions. Alpheus Media Inc. is an independent film production company based in Austin, Texas, whose work has aired on PBS and the Discovery Channel.
For more information, visit the "State of Tomorrow" Web site.
------------------------------
Preview air times
Episode 1: Preserve and Protect and 21st Century Cancer Care
2 p.m., Monday, Feb. 19, San Antonio, KLRN
Learn how experts are using innovations, such as proton therapy, to fight cancer. Also, a trip across Texas shows the work being done to preserve and protect our most precious natural resource -- water.
Episode 2: Disaster Response
2 p.m., Monday, Feb. 26, San Antonio, KLRN
Highlights the little-known contributions of higher education in saving lives during the devastation of Hurricane Katrina and comprehensive planning for future natural and man-made disasters.
Episode 3: Tornado Alley and Marine Scientists
2 p.m., Monday, March 12, San Antonio, KLRN
See the commitment of higher-education researchers to improve building safety and save lives before the next deadly twister hits Texas, and find out what scientists have discovered and the solutions they propose to preserve our coastline.
Episode 4: The Best and the Brightest and Eyes in Space
2 p.m., Monday, March 19, San Antonio, KLRN
Hear some of Texas' most thoughtful and provocative educators and leaders speak plainly about changes we must make in our educational system and in ourselves to keep our society innovative and competitive. Learn about asteroids, dark matter, the expansion of the universe and the most fundamental questions of human existence, as astronomers take us far beyond our planet, solar system and galaxy.