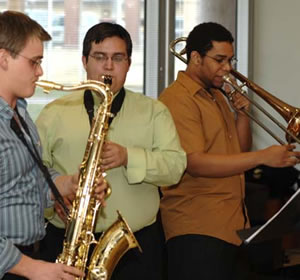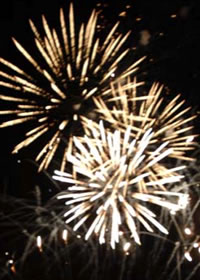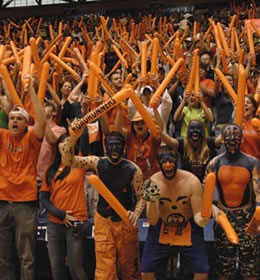 UTSA Homecoming 2007
(Photos by Mark McClendon)
Photo Gallery: UTSA celebrates Homecoming 2007
By Tim Brownlee
Assistant Director of Public Affairs
(Feb. 22, 2007)--The UTSA community celebrated Homecoming 2007 with a full slate of events Feb. 15-17.
The events were kicked off Feb. 15 with Jazz in the Plaza at the Downtown Campus with performances by the Joe Posada Quartet and students from the Phi Mu Alpha Sinfonia Music Fraternity. Usually presented in Bill Miller Plaza, the performances were moved inside because of the cold weather.
For the second year, the Golf Cart Parade combined with Rowdy Rampage, offered a great night of fireworks, music and fun Feb. 16 at the 1604 Campus.
The 23rd annual Diploma Dash 5K Run/Fitness Walk and City Championship Race started the day Feb. 17 at the Convocation Center, followed by the first Student Leader Reunion Luncheon.
There was a tailgate party on the Convocation Center lawn before the men's basketball game against the Texas State Bobcats.
At halftime, the winners of the Mr. and Ms. UTSA contest, Dan Iza and Andrea Delgado, were introduced by UTSA President Ricardo Romo and Dr. Harriett Romo. Iza and Delgado won after a student vote.