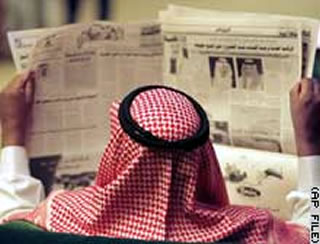 Associated Press file photo
UTSA presents March 26 panel on Arabs in media
By Tim Brownlee
Assistant Director of Public Affairs
(March 23, 2007)--The UTSA Department of Communication will host a lecture, "Media Transformations in the Arab World: The Impact on the Local and International Public Sphere" by Mansour El-Kikhia, UTSA associate professor and chair of the Department of Political Science and Geography.
---
Today's headlines
Article tools
---
Free and open to the public, the presentation is at 3 p.m., Monday, March 26 in Business Building Room 3.04.06 at the 1604 Campus. It will be simulcast in Frio Street Building Room 2.506 at the Downtown Campus.
As part of the course, International Communication, the lecture is the second of two on the role of the media in the Middle East and the Arab region.
A San Antonio resident and native of Libya, El-Kikhia earned his undergraduate degree in political science from American University of Beirut. After coming to the United States, he received master of arts and doctoral degrees in international relations from the University of California at Santa Barbara. The author of two books, he is working on a third.
The series of guest speakers in the course International Communication will conclude at 3 p.m. April 9 with the presentation, "The European Union Internal Market and the Liberalization and Deregulation of the Information Industry," by Boyka Stefanova, UTSA assistant professor of political science and geography. The lecture will be in the same location as previous lectures in the series with a Downtown Campus simulcast. Watch UTSA Today for details.
For more information, contact Viviana Rojas, assistant professor of communication, at (210) 458-7726.