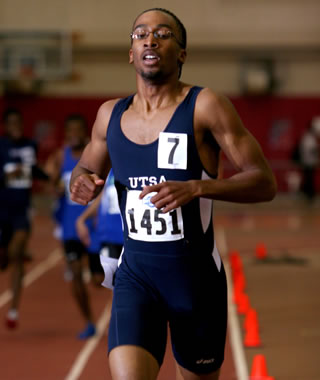 Larry Brooks
UTSA's Larry Brooks aims for NCAA Indoor Championships
By Brian Hernandez
UTSA Associate Sports Information Director
(March 7, 2007)--Last fall, Larry Brooks wrote down a list of goals he wanted to accomplish during his final indoor season. They included helping the Roadrunners defend their 2006 Southland Conference Indoor Championship, winning the league's indoor 800 meters for the first time, qualifying for the national meet and earning All-America honors.
---
Today's headlines
Article tools
---
Six months later, the Stafford native has successfully crossed off nearly every item on his list.
This weekend, he hopes to put one more feather in his cap when he competes at the NCAA Indoor Championships, which begin Friday at the Randal Tyson Track Center in Fayetteville, Ark.
Brooks enters the national meet having run a school-record 1:48.72 at last weekend's Iowa State NCAA Qualifier, a mark that ranks eighth in the country. The top eight finishers at this weekend's NCAA Championships will earn All-America honors and if he is able to accomplish that feat, Brooks will become just the fourth All-American in school history.
He knows this weekend will present the biggest challenge of his career, but it is one that he is ready to tackle.
"First and foremost, I have to advance to the finals, so that's my first step," Brooks said Tuesday before heading out to practice. "The key for me is not changing the way I've run all season. I just need keep my emotions in check, run my race and finish strong. If I can do that, then I think I'll have a good chance to accomplish my goal of becoming an All-American."
After a successful high school career that included a pair of runner-up finishes at the UIL Class 3A Championships, Brooks came to UTSA as one of the top middle distance runners in the state. He made an immediate impact as a freshman, finishing second at the 2004 SLC Indoor and runner up at the league's outdoor meet. Since then, Brooks has earned a total of three individual conference championships, including his first indoor crown three weeks ago.
"I owe everything to Coach Fox because he gave me a chance," Brooks said. "He has put me in a position to be successful and without him, I wouldn't be the person I am today."
Fox, who has coached two of UTSA's three All-Americans (current Roadrunner Brandon Buteaux, Justin Youngblood), said his senior co-captain has earned everything that has come his way during his career.
"Larry is an example of how hard work, focus and determination pays off in the long run," he said. "He is one of our team leaders and does a great job of taking care of his business on and off the track. Coach Slade has done an outstanding job with him this season and Larry will leave here as one of the top middle distance runners in school history."
In August, Fox hired Scott Slade to coach the distance program. Brooks, who had run under the tutelage of Rose Monday his first three seasons, said the first-year assistant has helped him reach the next level in this, his final season as a Roadrunner.
"Coach Slade has taught me to be patient when I race," he said. "I've learned so much from him and none of this would be possible if I didn't work with him throughout the cross country season."
Last fall, Brooks went through a full cross country campaign for the first time in his career and, when the indoor season began in late January, he felt as fit as he had ever been entering the season.
Slade, who joined the coaching staff in August, said Brooks has earned the right to run with the best this weekend.
"Larry has made a total commitment to becoming the best he can be," he said. "He has become more proactive about taking care of his body and addressing the mental side of racing. We have worked not only on improving his speed and endurance, but we also have worked to refine other areas of his running such as racing strategy and running technique."
"Knowing I have the chance to become an All-American is very exciting," Brooks said. "It's something I've dreamed about since high school and it would be a great honor to represent UTSA as one of the top runners in the country."