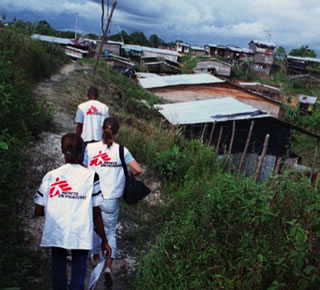 Doctors Without Borders project
UTSA to host Doctors Without Borders panel
(March 23, 2007)--UTSA will host "A Conversation with Doctors Without Borders" at 7 p.m., Saturday, March 24 in the Buena Vista Theater on the UTSA Downtown Campus.
David Martin Davies, news director for Texas Public Radio and columnist for the San Antonio Express-News, will lead a discussion with four Doctors Without Borders/Médecins Sans Frontières (MSF) aid workers.
---
Today's headlines
Article tools
---
The panelists, epidemiologist Caitlin Meredith, physician Hansel Otero, logistician Erik Schuchmann, and nurse and MSF recruiter Molly Sweeney, have worked in 14 projects delivering emergency medical care in Angola, Democratic Republic of Congo, Georgia, Liberia, Nigeria, Sierra Leone, Sudan and Uganda.
They will discuss the challenges of reaching people caught in conflict, treating malnutrition and responding to epidemics, and tell how they have made working with MSF a part of their lives. The program will be followed by a Q&A session including information about joining MSF.
The program is free, open to the public and wheelchair accessible. Parking is available across from the theater at Cattleman's Square on Buena Vista Street.
A pre-program reception is at 6 p.m. in the Buena Vista Street Building Assembly Room (1.338).
For more information, visit the Doctors Without Borders Web site or call 1-800-601-1466.
------------------------------
About Doctors Without Borders
Doctors Without Borders/Médecins Sans Frontières is an independent international medical humanitarian organization that delivers emergency aid to people affected by armed conflict, epidemics, natural or man-made disasters, or exclusion from health care in more than 70 countries.
Each year, MSF doctors, nurses, logisticians, water-and-sanitation experts, administrators, and other medical and non-medical professionals depart on more than 3,800 field assignments. They work alongside more than 22,500 locally hired staff to provide medical care.
In the United States and worldwide, MSF raises public awareness of the plight of people at risk. The organization sends field volunteers and staff to speak at international and national conferences, and arranges informational events and traveling exhibitions. Special public education projects have addressed the stark realities of living without access to medicines, the devastation caused by malnutrition and the hardships of life in a refugee camp.
MSF relies on the general public for nearly 80 percent of its operating funds. The remaining 20 percent of funds come from international agencies and governments. The organization counted more than 3.1 million individuals, foundations, corporations and nonprofit organizations among its donors worldwide in 2004. In 2004, MSF's worldwide income was $568 million. In the United States, nearly 380,000 private donors contributed more than $91 million to MSF-USA.