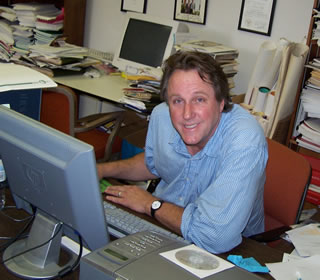 John I. Gilderbloom
Great Cities Dialogue features urban dev expert
By James Benavides
Public Affairs Specialist
(March 23, 2007)--The UTSA Center for Policy Studies will present the first Great Cities Dialogue featuring John I. Gilderbloom, director of the Center for Sustainable Urban Neighborhoods at the University of Louisville. Gilderbloom and a panel of local experts will discuss how major cities are positioning themselves as vibrant centers of commerce and community in the 21st century.
Free and open to the public, the event is at 6:45 p.m., Thursday, March 29 in the Buena Vista Theater (1.326), UTSA Downtown Campus.
---
Today's headlines
Article tools
---
Alex Briseño,former city manager and St. Mary's University professor of public service in residence, and Arturo Vega, UTSA associate professor of public administration, will provide comments before the panel discussion. Panelists will include District 5 City Councilwoman Patti Radle, former District 8 City Councilwoman Bonnie Conner and Mahesh Senagala, UTSA associate professor and associate dean of the College of Architecture.
John I. Gilderbloom is a professor of urban and public affairs in the graduate program in urban and public affairs at the University of Louisville, where he also directs the Center for Sustainable Urban Neighborhoods. Since 1992, his competitive federally funded grants have totaled nearly $4 million.
Gilderbloom has provided research assistance to the U.S. Congress, the Department of Housing and Urban Development, National Geographic magazine, President Clinton's Council on Sustainable Development and the National Economic Council. He has authored numerous papers, journal articles and five books, including his latest book, "Promise and Betrayal: University and the Creation of Sustainable Urban Neighborhoods."
His economic policy research has appeared in 30 peer-reviewed journals, 20 chapters in edited books, 11 monographs and 25 opinion pieces in newspapers and magazines including the Wall Street Journal, Washington Post, Los Angeles Times and USA Today magazine.
The Great Cities Dialogue is underwritten by Neighborhood Sponsors, The Lifshutz Fund of the San Antonio Area Foundation and UBS, and college sponsors George Pedraza and Presto Capital.
For more information, contact the UTSA Center for Policy Studies at (210) 458-2539.