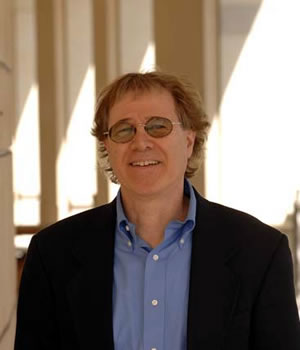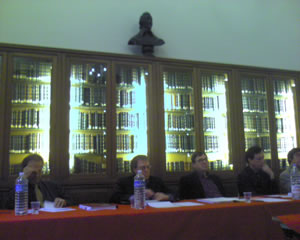 Top photo: Jeffrey Halley at the Main Building on the UTSA
1604 Campus. Bottom photo: Halley (center under bust) serves
on a thesis jury at the Sorbonne in Paris. The founder of
sociology and the first chair of sociology in France, Emile
Durkheim, grilled his doctoral students in this room during their
defense sessions. On the wall behind the jurists are the theses
of Durkheim's students, dating from 1900 to after World War I.
Associate Professor Jeffrey Halley serves on thesis jury at Sorbonne, University of Paris
(March 22, 2007)--Jeffrey A. Halley, UTSA associate professor of sociology, continued his research as part of a faculty development leave last December at two libraries in Paris -- the Bibliothèque Nationale and the Bibliothèque Jacques Doucet, a library specializing in the Dada art movement.
While in Paris, he also served on a jury at the Sorbonne, University of Paris, for a thesis defense in sociology for a "habilitation to direct Ph.D. theses." This gives French academics the right to be nominated for a position as full professor, and therefore to direct doctoral theses.
---
Today's headlines
Article tools
---
Additionally, Halley lectured on Dec. 4 on his recent work on Dada at the École des Hautes Études en Sciences Sociales (School of Higher Studies in the Social Sciences) Paris in the graduate seminar of Professor Florent Gaudez.
His talk was titled "'Cela n'est pas ce que je voulais dire,' Dada et l'impossible Urtexte," ("That's Not What I Meant: Dada and the Impossible Urtext"). Halley's article on the topic is in press in a book concerning how sociologists deal with texts.
Halley also has been instrumental in creating international links for UTSA by initiating an affiliation with the French National Center for Scientific Research through its new research group, Opus 2 International. The acronym of "Opus" in French is "Oeuvres, Public, Société" or artworks, publics and society. The research group deals in an interdisciplinary approach with the study of the sociology of art and culture.
Halley will continue his work in French sociology of art as guest editor of two volumes in preparation for the journal, Sociologie de l'art, the chief journal of the sociology of art and culture in France.
"I am also excited that I am being considered for election as visiting professor to the School of Higher Studies in the Social Sciences -- École des Hautes Etudes en Sciences Sociales," said Halley. "If I am elected, I will give four lectures late this year in Paris, Marseilles and Avignon."