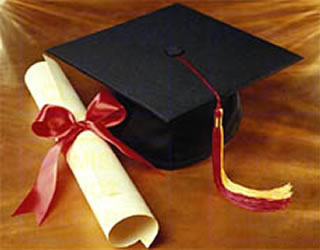 Coordinating Board okays B.A. in honors studies
By Ann Eisenberg
Honors College Associate Dean and Associate Professor of Psychology
(March 30, 2007)--The UTSA Honors College announces the approval of a bachelor of arts degree in honors studies by the Texas Higher Education Coordinating Board. Students can enroll in this first Honors College degree program beginning in fall 2007.
Including the new degree, UTSA offers 63 bachelor's degree programs, 43 master's and 20 doctorates.
---
Today's headlines
Article tools
---
To be eligible to earn the B.A. degree in honors studies, students must pursue a UTSA degree in the 2006-08 course catalog, have a GPA of 3.25 or higher, and be or become a member of the Honors College.
The bachelor's degree in honors studies is an exciting opportunity because it will allow honors students greater flexibility in their academic programs. While the degree has a core of honors and non-honors courses in sciences, social sciences, and humanities -- plus a demand for substantial competence in a foreign language and the completion of an honors thesis -- students also take 24 hours in a concentration of their choosing and have an additional 12-15 elective hours in which they can, essentially, write their own degree plan with approval from the Honors College.
The Honors College advising team already has designed a degree plan for a B.A. in honors studies with a concentration in pre-medical studies. The benefit of the degree plan is that students can take not only science courses required for admission to medical school, but also many courses focusing on the humanistic side of medical practice.
The advising team also prepared a pre-law degree plan for a B.A. in honors studies and a concentration (and minor) in legal studies. Professor Don Robin, the first official member of the Honors College faculty, is working to develop a B.A. in honors studies with a concentration in human neuroscience. The degree plan will involve collaboration with the UT Health Science Center at San Antonio Research Imaging Center.
The B.A. in honors studies also can be completed with any minor in the College of Liberal and Fine Arts, and students should easily be able to complete double majors with the B.A. in honors studies and most liberal arts majors.
Students with interdisciplinary interests that do not closely fit any individual major also should also take a close look at the B.A. in honors studies.
------------------------------
For more information, contact Ann Eisenberg at (210) 458-4106.