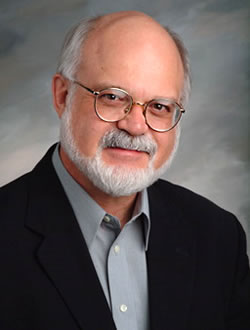 John Hildebrand
UTSA, UTHSC alliance hosts research retreat
By Kris Rodriguez
Public Affairs Specialist
(March 6, 2007)--The San Antonio Neuroscience Alliance (SANA), a collaborative initiative of UTSA and the UT Health Science Center at San Antonio (UTHSC), will host a spring retreat from 8 a.m. to 5 p.m., Saturday, March 31 at the Radisson Hill Country Resort.
Open to all San Antonio neuroscientists, the retreat will provide an informal forum for social and scientific interaction among neuroscientists, postdoctoral fellows and graduate and undergraduate students. The forum will include presentations by doctoral students and a poster presentation competition. In various categories, awards will be presented for excellence in neuroscience.
---
Today's headlines
Article tools
---
Neuroscientist John Hildebrand will deliver the keynote speech on the simple olfactory system. Hildebrand directs the Arizona Research Laboratories Division of Neurobiology and leads a group that conducts multidisciplinary research combining anatomical, behavioral, chemical and neurophysiological methods. The group's research focus is the organization, physiology, functions and postembryonic development of the insect nervous system with the goal to discover commonalities of nervous systems in insects and other organisms.
SANA was established to enhance neuroscience research and training at the two institutions. Including both UTSA and UTHSC, approximately 70 students are enrolled in doctoral programs in neuroscience research. SANA supports neuroscience training through a competitive stipend award program for neuroscience doctoral students, monthly research colloquiums and a neuroscience seminar series featuring distinguished researchers.
View a research retreat schedule at the SANA Web site.
To register and submit an abstract for presentation in the program, visit the SANA retreat registration Web site.
For more information, contact David Jaffe at (210) 458-5843 or Randolph Glickman at (210) 567-8420.