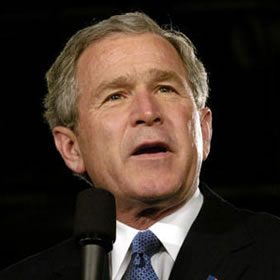 George W. Bush (top) and Felipe Calderon
Bush, Calderon to discuss UTSA business initiative
By Marianne McBride Lewis
Director of Public Affairs
(March 13, 2007)--The University of Texas at San Antonio initiative to replicate its successful Small Business Development Center (SBDC) program across Mexico to create jobs and help reduce migration pressures will be discussed over breakfast Wednesday morning, March 14, 2007, when U.S. President George W. Bush and Mexico President Felipe Calderón meet in Mérida, Yucatan, the last stop on Bush's five-nation Latin America tour.
---
Today's headlines
Article tools
---
The UTSA partnership with Universidad Veracruzana and a network of 42 Mexican higher-education institutions was selected by U.S. embassy personnel to highlight the most successful partnerships among U.S. and Mexican universities.
A presentation will be delivered by Marcela Ruiz from the state of Aquascalientes, who graduated in 2004 from a "diplomado" or certificate course delivered by the UTSA Institute for Economic Development.
"As UTSA grows in global perspective, partnerships such as this, which transform lives and relationships among universities and countries, demonstrate the power of education," said UTSA President Ricardo Romo.
The Small Business Development Center program trains a new cadre of Mexican professionals in the art of economic development by sharing proven skills and methodologies to bolster entrepreneurship growth in Mexico.
Ruiz will explain her work as an economic development practitioner, who along with 200 other Diplomado graduates are working in Mexico's own network of 42 Small Business Development Centers -- a resource that has assisted nearly 30,000 businesses since inception in 2001.
Regions of the world that prosper economically have one common trait -- strong higher-education institutions which engage aggressively with the private sector and government to promote global competitiveness. Mexico recognizes that most new jobs and innovations come from the small business sector, and has called upon its universities to do their part.
"Social dissemination of knowledge to improve lives is our purpose," said Raúl Arias Lovillo, rector of Universidad Veracruzana, who also heads the Mexican Association of Small Business Development Centers.
UTSA began this work in partnership with Universidad Autonoma de Guadalajara in 2000, and now is actively building trade linkages among small businesses in South Texas with Mexican counterparts to benefit economic growth on both sides of the border.