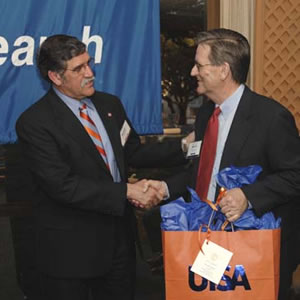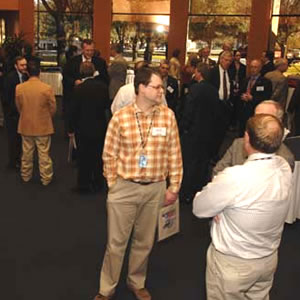 Top photo: UTSA President Ricardo Romo greets SwRi
President Dan Bates. Bottom photo: A view of the reception.
(Photos by Mark McClendon)
Southwest Research hosts UTSA alumni reception
By Kris Rodriguez
Public Affairs Specialist
(March 30, 2007)--Nearly 100 UTSA alumni who are employees of Southwest Research Institute (SwRI) recently attended a reception hosted by the UTSA Office of Alumni Programs.
The event celebrated the collaborative programs of UTSA and SwRI and re-energized the Roadrunner spirit in SwRI employees. The Office of Alumni Programs recently organized similar receptions with H-E-B Grocery Co. and Valero Energy to reach out to alumni through the business community.
---
Today's headlines
Article tools
---
At the reception, UTSA President Ricardo Romo and SwRI President Dan Bates touted the collaborative projects of the two institutions including master's and doctoral degree programs in physics established in fall 2005. Romo encouraged alumni to visit the UTSA campuses and participate in the many events and programs.
David McComas, senior executive director of the SwRI Space Science and Engineering Division, said that the 27 students applying for the doctoral degree program in physics almost doubles the number of enrolled when the program began.
"The students seem to love it because they are getting to work in laboratories with real-flight hardware and handling aircraft that will be up in space," said McComas. "We're starting to really draw nationally from students who could go anywhere, but they are wanting to come here due to the strength of our joint program."
Additional presenters included UTSA College of Engineering faculty members Philip Chen and Harry Millwater, who are working with SwRI scientists on projects involving developing new techniques to monitor the health of aircraft jet engines.
Among the alumni in attendance was Sandra Dykes, who has three UTSA degrees, including a master's in chemistry and a doctorate in computer science. Her husband, James Dykes, is a UTSA associate professor of psychology.
Dykes' research focus is network security, but she also works on space flight and satellite software. "It's that kind of diversity of work that I think makes Southwest Research Institute a really exciting place to be," said Dykes.
For more information about alumni receptions, visit the UTSA Office of Alumni Programs Web site or call (210) 458-4133.