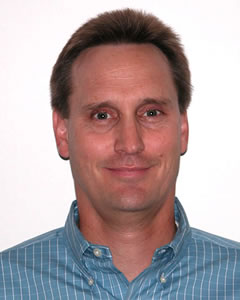 Fred Dinger
UTSA hosts technology entrepreneur boot camp
By Kris Rodriguez
Public Affairs Specialist
(March 12, 2007)--The UTSA Center for Innovation and Technology Entrepreneurship (CITE) will present Fred Dinger, former president and CEO of Osteobiologics, headlining a list of distinguished speakers and panelists at the inaugural Technology Entrepreneurship Boot Camp from 8 a.m. to 4 p.m., Friday, March 23 in the John Peace Library Building Assembly Room (4.03.08) on the 1604 Campus.
---
Today's headlines
Article tools
---
Other presenters will include Janet Campbell, CEO of Sena Medical; Jay Campion, co-founder and managing director of Access Venture Partners; David Spencer, president of Mandelbrot Ventures Inc.; Joseph Picken, executive director of the University of Dallas Institute for Innovation and Entrepreneurship; James Poage, president and CEO of the San Antonio Technology Accelerator Initiative (SATAI); Cory Hallam, CITE director and Raymond Teske, professor in the UTSA College of Business.
The daylong event will feature presentations on fundamental entrepreneurship topics including opportunity identification, business plan basics, intellectual property and the UT System, introduction to business law and funding a technology start-up. A networking reception will close the day.
CITE fosters the growth of entrepreneurs and new technology-based ventures through a process of education, experiences, resources and support.
The Technology Entrepreneurship Boot Camp is sponsored by the UTSA College of Business, UTSA College of Engineering, UTSA Institute for Economic Development, UTSA Office of Sponsored Research and SATAI.
Registration is $95, free for UT System students and employees. Because of limited space, early registration is advised. Register at the CITE Web site.
For more information, contact Cory Hallam at (210) 458-6595.
------------------------------
Technology Entrepreneurship Boot Camp schedule
Friday, March 23
7:30-8 a.m. -- Registration
8-8:15 a.m. -- Welcome and introductions
8:15-8:45 a.m. -- Overview of technology entrepreneurship
8:45-9:15 a.m. -- Opportunity identification
9:15-10 a.m. -- Basics of the business plan
10:15-11:15 a.m. -- Intellectual roperty and the UT System
11:15 a.m.-noon -- Starting your own business and the law
Noon-1 p.m. -- Lunch
1-2 p.m. -- Funding the start-up in San Antonio
2-3 p.m. -- What investors are looking for
3:-3:05 p.m. -- Wrap-up
3:05-4 p.m. -- Networking reception