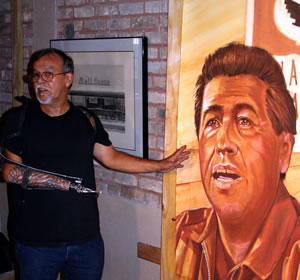 Top photo: Lisa Ortiz presents film to Arturo Almeida
Bottom photo: Artist Jesse Trevino with his painting of labor
activist Cesar Chavez (part of the UTSA Art Collection)
Film bio of artist Jesse Trevino given to UTSA
By Janice Odom
Director of Development -- Foundation and Organization Relations
(March 9, 2007)--One of the few original reels of San Antonio artist Jesse Trevino's biography, "Spirit Against All Odds," is headed to the UTSA Library Archives, thanks to local art dealer and gallery owner Lisa Ortiz.
---
Today's headlines
Article tools
---
The donation of the film came about when Arturo Almeida, UTSA art collection curator, visited Ortiz at her gallery and suggested that the film would be an excellent asset for the UTSA archives.
Produced in the 1980s and narrated by award-winning actor Martin Sheen, the documentary has been shown many times on PBS and copies are in libraries across the country, according to Ortiz.
The 16 mm film given to UTSA is one of only two or three original prints of the documentary that tells the story of Trevino's challenges after losing his painting hand to a war injury suffered in Vietnam. First encouraged to return to school to become an art teacher, he was challenged by one of his professors to learn to paint with his left hand.
Noting how difficult that must have been for the artist, Ortiz said that "you can't tell the difference in his work" painted before and after the accident. Considered one of the country's finest Hispanic artists, Trevino had a one-man show at the National Museum of Art at the Smithsonian Institution in Washington, D.C., in 1994, and his work is represented in the Smithsonian's collection and in other museums throughout the United States. President Ricardo Romo has added several of Trevino's paintings to the UTSA Art Collection.
The reel of film Ortiz donated to the UTSA Library Archives was given to her after she helped the filmmakers during their three-week production stay in San Antonio some 20 years ago. At the time, Galeria Ortiz represented the artist.
"The film is very inspiring -- like a movie," Ortiz said, adding that she was "happy that it will be saved and archived at UTSA."
Almeida said that the 16 mm film will be transferred to DVD so that students and other UTSA Library patrons can enjoy Trevino's inspirational story.