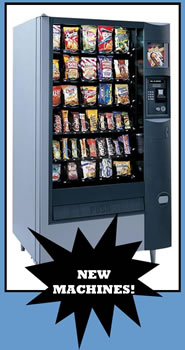 New vending supplier brings healthier foods
By Shelley Kilpatrick
Student Writer, College of Liberal and Fine Arts
(March 2, 2007)--During Spring Break, March 12-16, food vending machines will be replaced at the UTSA Tri-campuses by a new snack vending supplier, Canteen Vending Services. Current food vending machines will remain stocked until Spring Break. The new vending machines will be fully stocked and ready within two days after removal of old ones.
---
Today's headlines
Article tools
---
The new vendor will bring a wider variety of snacks, ice cream, cold food, gourmet coffee and healthy choices such as Balanced Choice sandwiches, salads and low-fat items.
"The really good news about Canteen is that they will provide healthier food choices and a broader range of items," said Corinne Vela-Zapata, UTSA director of auxiliary services. "Also, over the next several months we will add the UTSACard-swipe feature to some food machines, as we have on some soda machines." The UTSACard-swipe allows customers to use their UTSACard Rowdy Dollars for purchases.
New ice cream machines will be placed in the Humanities and Social Sciences Building and the University Center at the 1604 Campus and in the Frio Street Building at the Downtown Campus.
Cold food machines are located in the University Center at the 1604 Campus and the Monterey Building at the Downtown Campus.
For more information, contact Corinne Vela-Zapata at (210) 458-4970.
New vending machine food choices
Wolfgang Puck gourmet coffee
Baked potato with fat-free sour cream
Hot Pockets and Lean Pockets
Vegetables with fat-free ranch dressing
Balanced Choice turkey, ham and tuna sandwiches
Balance Choice chef salads
Nathan's hot dogs
Krystal cheeseburgers
Turkey and ham sandwiches on focaccia bread
Blimpie sandwiches
Meatball sub sandwich
Tony Roma rib sandwich
Apple and cheese danishes
Burritos
Animal crackers
Frozen and fresh fruit
Baked Lay's chips
Bagels with cream cheese
Honey buns
Cracker Jack