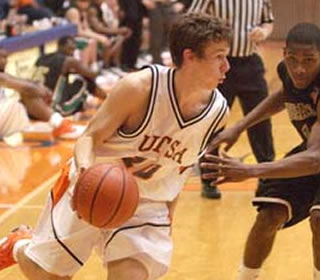 Kurt Attaway will graduate in May with 4.0 GPA.
Attaway named to Div. I-AAA scholar-athlete team
By Kyle Stephens
UTSA Sports Information Director
(April 12, 2007)--UTSA senior guard Kurt Attaway has been named to the 2006-07 Division I-AAA Athletics Directors Association Scholar-Athlete Team for men's basketball. Attaway was one of 11 student-athletes from NCAA Division I institutions who do not participate in football voted to the team.
Attaway completed his four-year career in March and ranks as one of the school's all-time leading student-athletes. The Flower Mound Marcus High product carries a perfect 4.0 grade point average and will graduate in May with a bachelor's degree in psychology.
---
Today's headlines
Article tools
---
The two-time defending Southland Conference Student-Athlete of the Year, Attaway is a three-time ESPN The Magazine Academic All-District VI selection. He also was an honorable mention candidate for the prestigious Coach Wooden Citizenship Cup Award this season and was UTSA's Male Scholar-Athlete of the Year in 2003-04 and 2004-05.
On the court, Attaway led the league in steals (2.1 per game) and ranked fifth in assists (4.1 per game) this season. The 2003-04 SLC Freshman of the Year finished his UTSA career in fourth place on the career steals (162) and assists (371) lists and 31st in points (661) and rebounds (281). In 2006-07, Attaway averaged 7.2 points and 2.5 rebounds per contest and shot 72.4 percent from the free throw line. He nearly matched the school single-game record for assists with 12 in a Nov. 22 loss to Cal State Fullerton.
Men's Scholar-Athlete Team
(Name-Institution-GPA-Major)
Kurt Attaway, UTSA, 4.00, psychology
Scott Dougherty, Santa Clara, 3.57, chemistry
Michael Haddix, Siena, 3.22, psychology
Justin Hare, Belmont, 3.85, exercise sciences
Charles Harris, Canisius, 3.60, digital media arts
Brian Hodges, UMBC, 3.52, economics
Martin Klimes, Vermont, 3.84, business administration/finance
Sean P. Mallon, Gonzaga, 3.53, organizational leadership
Luke James Meyer, Saint Louis, 3.76, accounting
Mike Schachtnter, UW-Green Bay, 3.84, general studies
Anthony Tolliver*, Creighton, 3.53, finance

* Scholar-Athlete of the Year

Honorable Mention: Mitch Henke, Santa Clara