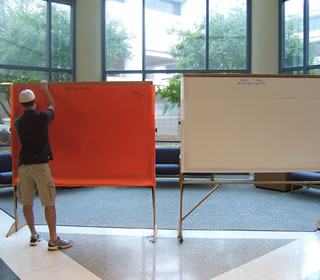 Message boards in University Center for Virginia Tech community
UTSA to send condolences to Virginia Tech
By John Kaulfus
Associate Dean of Students
(April 17, 2007)--In response to the tragedy that occurred Monday, April 16 at Virginia Tech University, the UTSA Office of Student Activities, the University Center and the Center for Inclusion and Community Engagement will host an opportunity to express condolences to the men and women who were killed or wounded in the shooting.
---
Today's headlines
Article tools
---
Two bulletin boards will be set up by noon, Tuesday, April 17 in the University Center window lounge, across from the bookstore and information desk, at the 1604 Campus. The two boards will be covered with large sheets of paper on which messages can be written.
On one board, members of the UTSA family can write messages to our peers and colleagues at Virginia Tech. The paper scroll will be available through Thursday, April 19, and will be mailed Friday, April 20 to Virginia Tech.
A second board will be available during the same time period on which anyone can write their feelings about the Virginia Tech incident.
The boards offer opportunities to reach out and express our feelings as we strive to cope with this terrible tragedy.
------------------------------
"Every trial endured and weathered in the right spirit makes a soul nobler and stronger than it was before."
James Buckham, "Overcoming Adversity"