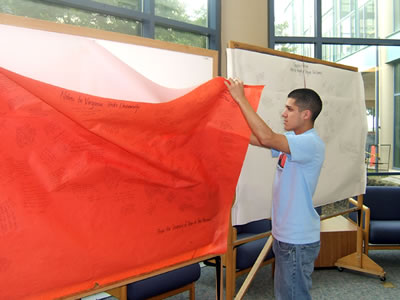 UTSA students with messages for Virginia Tech
UTSA students collect condolence messages for Virginia Tech
By Charlin Jones
Honors Alliance Program Coordinator, Office of Student Activities
(April 20, 2007)--In response to the tragedy that occurred Monday, April 16 at Virginia Tech University, the UTSA Office of Student Activities, the University Center and the Center for Inclusion and Community Engagement hosted message boards this week at the 1604 and Downtown campuses.
---
Today's headlines
Article tools
---
The boards provided opportunities for the UTSA community to send condolences to the Virginia Tech community and to express their feelings about the terrible tragedy.
UTSA students, faculty and staff members posted messages on boards set up Tuesday morning at the 1604 Campus University Center and the Downtown Campus Student Activities Center.
Pictured in the top photo (from left) are UTSA students Amanda Lopez, Jaime Villanueva, Irene Martinez, Luisa Cantu, Alberto Escalante and Nina Piez, who have a mailing tube containing the messages of sympathy and support to be mailed Friday to Virginia Tech. In the lower photo, Excalante pulls down the message sheet from the board in the University Center to prepare it for mailing.