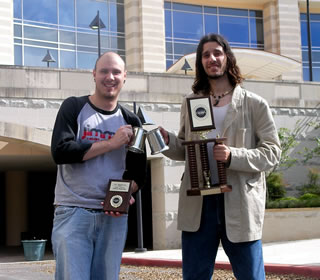 At the Main Building on the 1604 Campus, UTSA debaters Matt
Reichle (left) and Philip DiPiazza show their National Debate
Tournament participant mugs. Reichle holds his All-American plaque
and DiPiazza holds their sixth-place Cross Examination Debate
Association trophy.
UTSA debater named All-American, team places sixth
By Skip Eno
UTSA Director of Debate
(April 6, 2007)--Matt Reichle, a UTSA senior from Laredo, was named to the Cross Examination Debate Association (CEDA) All-American Debate Team at the organization's national championship tournament March 20-26 at the University of Oklahoma in Norman. He was one of 30 students honored among hundreds of debaters from across the nation.
---
Today's headlines
Article tools
---
Additionally, Reichle and team partner Philip DiPiazza, a UTSA senior from Dumas, advanced to elimination rounds, where they defeated Binghamton University (New York) on a unanimous 3-0 decision. In the next round, Reichle and DiPiazza lost a tight decision (2-1) to a team from California State University, Fullerton. The UTSA debaters won preliminary rounds against Kansas City (Kansas) Community College, Arizona State University, University of Vermont, Michigan State University and University of Kansas. The team placed sixth at the tournament.
The CEDA Championship Tournament featured 368 debaters from 33 states. Reichle and DiPiazza ranked 36th in the field of 184 teams.
The arguing Roadrunners currently are in Dallas for the National Debate Tournament (NDT) competing among an elite field of 84 teams. Reichle and DiPiazza qualified for the NCAA-like national championship in March.
They have worked non-stop to prepare new arguments and cases for their national championship quest. Win or lose, the UTSA squad can get some rest, catch up with studies and look back happily on a successful season.