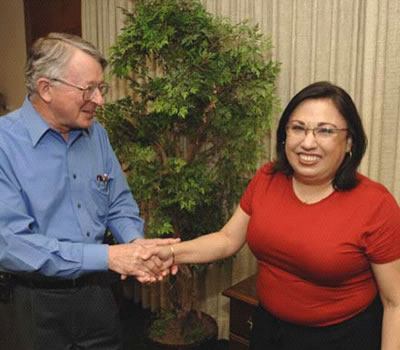 Patricia Dunn (right) with John Davis, interim excecutive director of UTSA's Institute of
Texan Cultures (Photo by Mark McClendon)
Extra Mile Award: Patricia Dunn
By Shelley Kilpatrick
Student Writer, College of Liberal and Fine Arts
(April 15, 2007)--Patricia Dunn, educational specialist III at UTSA's Institute of Texan Cultures, will be honored with the Extra Mile Award, one of five that will be presented at 2 p.m., Tuesday, April 17 at the UTSA Staff Excellence and Service Awards ceremony in the University Center Retama Auditorium (2.02.02), 1604 Campus.
---
Today's headlines
Article tools
---
The five Staff Excellence Awards recognize excellent work performance in emerging leadership, dynamic leadership, teamwork, extraordinary initiative and overall excellence.
This year's additional award winners are:
Rising Star Award: David Kessler, academic advisor I, College of Liberal and Fine Arts Advising Center
Leadership Award: Jeanette (Jenny) Stokes, senior administrative associate, Department of Interdisciplinary Learning and Teaching
Team Spirit Award: Travel Management Office staff members Lupita Reynaga, accounting technician; Perian (Perry) Griner, accounting technician; and Celine Weidner, accounting clerk III
Order of the Roadrunner Award: John Soudah, director of academic computing, College of Business and Office of Information Technology
In one of five award spotlights featured on UTSA Today, the Extra Mile Award recognizes an individual with at least three years continuous service with UTSA and who has aided the success of UTSA through his or her outstanding contributions at work. This person demonstrates extra efforts in their accomplishments, timeliness, follow-through and willingness to help fellow employees. He or she provides excellent customer service with creativity, dedication, cooperation and reliability. He or she has performed above and beyond normal job requirements resulting in furthering the department's and UTSA's goals and mission.
------------------------------
Patricia Dunn
Extra Mile Award winner
Patricia Dunn strives to go beyond classroom teaching by bringing real-world applications to all of her lessons. This motivation to do more also is evident in the way she thinks outside of the box and takes the initiative to further her department's goals and UTSA's mission.
Dunn's expert knowledge of the Institute of Texan Cultures (ITC) is woven into the experience she provides for UTSA students. She spends countless hours developing workshops that educate students who are preparing to become teachers on how to utilize the resources of the ITC in teaching methods and curriculum.
According to one of her nominators, "My UTSA students always express appreciation for the valuable information she shares, as well as the engaging manner of her presentations."
Dunn goes beyond what is expected of her by volunteering to hold classes in the evenings and on weekends to accommodate everyone's schedules. Not only is she a dynamic and knowledgeable speaker, she also spends much time working to improve course delivery and helps other find resources to support instruction.
Dunn makes the most of her extensive educational background in history to serve the community. For example, she judges the history fair for San Antonio ISD, as well as the regional and Texas state history fairs. She volunteers as a conflict mediator at ITC, is chair of the UTSA Staff Council, serves on the committee for Women's History Month and is the University Assembly staff representative.
Said one of her nominators, "Patti has the ability to look at issues from an objective viewpoint, to listen and respect others' feedback, and to face adverse decisions and address issues in a fair and timely manner."
Dunn also is a member of the University Affirmative Action and Diversity Committee, and plays an important role in ensuring that staff members are represented in discussion and decisions.
According to a nominator, "Patti Dunn is remarkable. She has boundless energy and a sincere enthusiasm for all of her projects."
-----------------------------
UTSA employees are invited to attend the event hosted by Sonia Martinez, vice president for university advancement; Rosalie Ambrosino, provost and vice president for academic affairs; and Jeffrey Kantor, associate vice president for research. The ceremony also will include remarks by President Ricardo Romo.
Downtown Campus and Institute of Texan Cultures staff members can attend the event utilizing VIA buses 93 or 94 at no charge by showing their UTSACard.
The ceremony will include retiree recognition, service pin awards for 5 to 30 years and refreshments. Twenty-five staff members will be honored on their retirements and 274 staff members will receive UT System service awards for the 2006 calendar year.
Read more about the Staff Excellence Awards and previous winners at the Human Resources Web site.