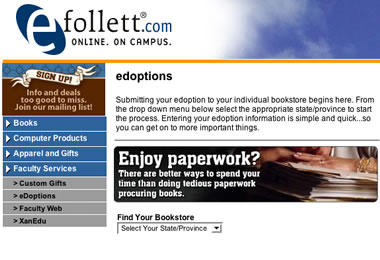 Edoption Web site:
www.utsa.bkstr.com
UTSA Bookstore offers online textbook ordering
By Tim Brownlee
Assistant Director of Public Affairs
(April 5, 2007)--The UTSA Bookstore, managed by Follett Higher Education Group, will offer a new online "edoption" service for ordering textbooks and course materials. Edoption is the fastest, easiest way to submit orders (or adoptions).
Training on the new online ordering system is scheduled for April 10-11. Twenty-minute "brown-bag" training sessions on the Edoption system will be at 10 a.m., noon and 2 p.m., Tuesday, April 10 in the University Center Hawthorne Room (2.01.40), 1604 Campus, and 10 a.m., noon and 2 p.m., Wednesday, April 11 in the Buena Vista Street Building Room 1.322, Downtown Campus.
---
Today's headlines
Article tools
---
Registration is not required. Faculty members and administrative associates who order textbooks are encouraged to bring a lunch to the training; beverages will be provided.
If you don't want to participate in training, Follett representatives will be available to answer questions from 9 a.m. to 3 p.m. April 10 at the 1604 Campus training site and April 11 at the Downtown Campus training site.
"The Edoption system will help get the books on the shelves for students much faster," said John Palmer, UTSA Bookstore director. "Something else faculty will like at the Edoption Web site is the message board feature. Before they make a decision on a particular textbook, they can look at comments on a book from faculty at other universities and colleges. It's similar to a listing on Amazon.com."
Other advantages of the Edoption system are the order confirmation and tracking features, which keep records of textbook orders over many semesters.
"If a textbook will be used again, all you have to do is click 'repeat order,'" said Palmer. "We think the administrative associates who handle the orders will really appreciate this feature." In most departments, textbook and course materials are ordered by administrative associates in order to centralize and monitor the ordering process.
The deadline for fall 2007 textbook orders is April 16. Observing this deadline enables the bookstore to better serve students; when Follett knows a text will be used again, they can pay more to students during the book sellback period at the end of the semester.
For more information, contact John Palmer at (210) 458-4220.